There is a hearing loop fitted in this church, please adjust your hearing aid accordingly; please switch your mobile phone to 'flight' mode and turn off all recording devices. Thank you.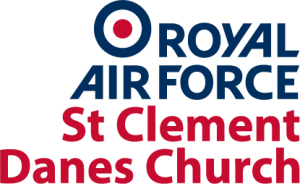 Welcome to St Clement Danes the Central Church of the RAF
Choral Matins
27 September 2020
Trinity 16
This is the traditional service of Morning Prayer from the Book of Common Prayer of the Church of England.
The Order of Service is found in the blue prayer book starting at page two.
At the moment congregational singing is not allowed in places of worship, so please listen with your hearts as the choir enhance our worship with their music.
The officiant and preacher today is: The Revd Giles Legood, Deputy Chaplain-in-Chief
Please stand for the
Opening Hymn: (sung by the choir) Stand up, stand up for Jesus
Welcome / Confession / Absolution followed by Preces sung by choir
Stand for the Venite
Please sit for the psalm Psalm: 78 verses 1 to 8
HEAR my law, O my people : incline your ears unto the words of my mouth.
2 I will open my mouth in a parable : I will declare hard sentences of old;
3 Which we have heard and known : and such as our fathers have told us;
4 That we should not hide them from the children of the generations to come : but to shew the honour of the Lord, his mighty and wonderful works that he hath done.
5 He made a covenant with Jacob, and gave Israel a law : which he commanded our forefathers to teach their children;
6 That their posterity might know it : and the children which were yet unborn;
7 To the intent that when they came up : they might shew their children the same;
8 That they might put their trust in God : and not to forget the works of God, but to keep his commandments;
Sit for the First Lesson: Ezekiel 18 verses 1 to 4 and 25 to end
Stand for the Te Deum Anerio
Sit for the Second Lesson: Matthew 21 Verses 23 to 32
Stand for the Jubilate Chant
Remain standing for the Creed
Sit or kneel for the responses and collects
Sit for the anthem: Ave Regina Coelorum Lobo
Sit or kneel for the prayers and intercessions.
Hymn: (sung by the choir) Dear Lord and Father of mankind
Sermon
Hymn: (sung by the choir) O Lord my God when I in awesome wonder
Blessing
Organ Postlude: Saraband in Modo Elegiaco Howells
Text from The Book of Common Prayer, the rights in which are vested in the Crown,
is reproduced by permission of the Crown's Patentee, Cambridge University Press.

Please leave your prayer book in the pew as you depart.
If you are seated on the northside (pulpit side) please leave by the north doors.
If on the southside please leave by the south doors.
There is a box for your contact form, and a donation point, by each door.
Thank you