RAF veteran Jack Hemmings
100-year-old airman completes fundraising flight in vintage aircraft in tribute to lifelong friend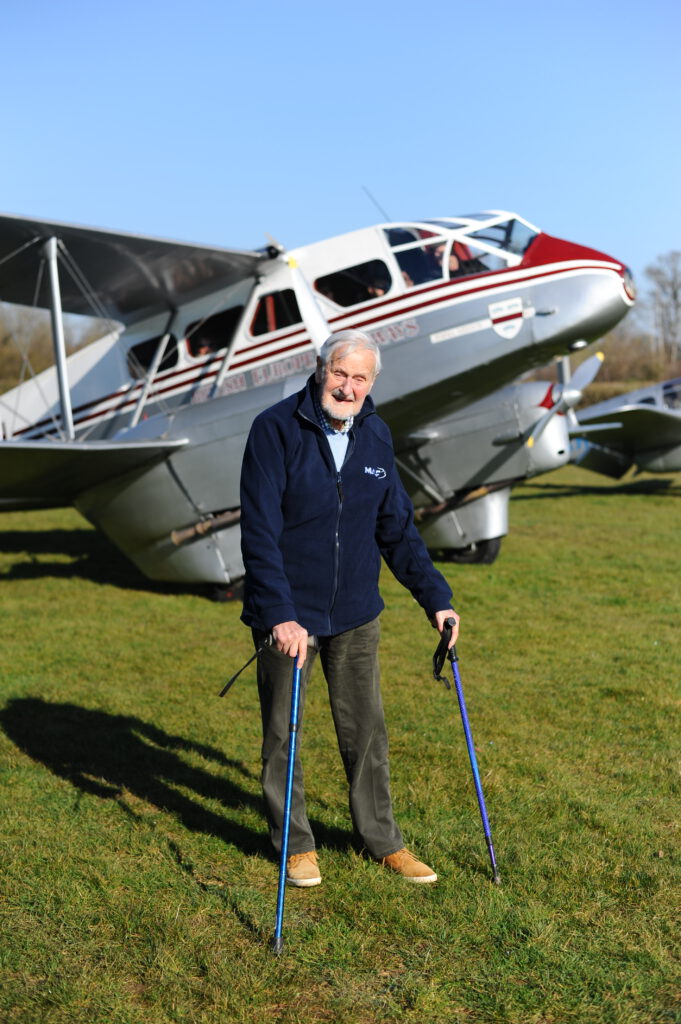 RAF veteran Jack Hemmings [100] took to the skies in a 1947 Miles Gemini aircraft on Saturday 19 March 2022 – the same model he and his friend Stuart King flew to Africa in 1948.
Jack – a former RAF Squadron Leader who was awared the Air Force Cross for exemplary gallantry while flying with 353 Squadron – took off from Old Warden airfield on the Shuttleworth estate on what would have been his friend's 100th birthday.
Saturday's nostalgic Gemini flight was to raise funds for Mission Aviation Fellowship [MAF], the charity Jack and Stuart co-founded in the aftermath of WWII. Today, MAF has grown to become the world's largest humanitarain air-service.
Jack – who performed aerobatics on his own 100th birthday – returned to the controls of a Miles Gemini for the first time in 74 years. It is the the same wooden aircraft model he and Stuart piloted in 1948 to perform MAF's first ground-breaking survey across Central Africa; a mission which lasted more than six months.
Shortly after landing, Jack said, "I've got so many thoughts about today, and it was wonderful to be back in a Miles Gemini after 74 years.
"I love flying because I have a feeling of detachment from all the problems in the world; and there are a lot of problems. Seeing aircraft being used as weapons of war – as we did as young RAF airmen – rmeminds me of MAF's initial purpose: to use airoplanes to bring peace and hope to needy places."
Stuart King would have turned 100 on 13th March 2022, and Jack wanted to pay public tribute to his lifelong friend. Stuart was involved in the D-Day landings as an Engineering Officer with 247 Squadron before joining MAF in 1947 and helping the chariry expand from one base in Sudan to 12 African programmes today.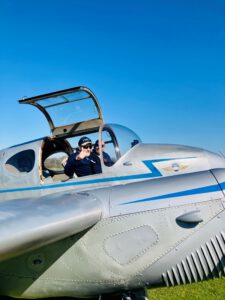 Stuart died in August 2020, aged 98, and was a man Jack describes as "a pilot, a conscientious engineer, a pioneer and a man of resolute faith."
Jack continued: "The flight today made me think of Stuart on what would have been his 100th birthday, and it was a suitable time to rememeber what he achieved in his lifetime. One cannot count the number of people whose lives have been enriched by his services.
"I don't recall ever looking forward during that first Gemini flight in 1948 – but perhaps we could have imagined half a dozen aircraft in Africa. Today, MAF has 123 aircraft around the world. Every flight does some good – I think MAF is like the international Good Samaritain of the air. If anyone needs transporting out of difficulty, or needs urgent medical help, MAF is there."
Jack – who flew Lockheed Hudson and C-47 Dacota aircraft during WWII – turned 100 on 10 August 2021, and demonstrated his unwavering passion for aviation by performing aerobatics in a Slingsby Firefly at White Waltham airfield. He is thought to be one of the oldest British airmen to perform stunts of this kind.
Jack's first Gemini flight was in 1947 when MAF lauched its air service to the British public at Broxboume airport on 6 Septemeber. The Gemini was named Mildmay Pathfinder and commissioned by the RAF's principle chaplain Group Captain The Reverend W.R Marsh. From there Jack and Stuart commenced a 30-stage tour of the UK to rally support, before taking off from Croydon on a 3,000 mile flight to Nairobi on 13 January 1948.
The 1948 Gemini survey was the first British mission to assess the humanitarain needs of isolated communities dotted across Kenya, Uganda, Sudan, Ethiopia, Rwanda and the Belgian Congo. The six-month trip saw the two young airmen encouter inpenetrable terrain and unimaginable needs, which they documented in 900 pages of first-hand analysis.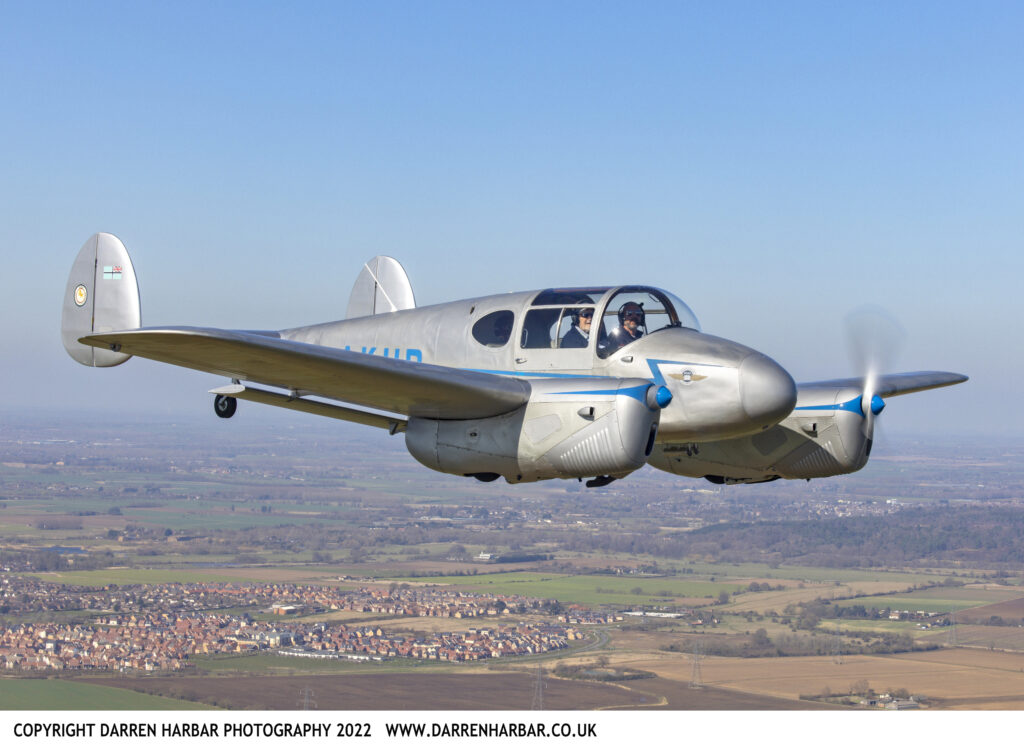 In his 1993 book Hope Has Wings, Stuart wrote: "In Sudan, there were vast areas where there were no real roads at all, and what tracks existed were impassable for months at a time. There were places where people were out of range of medical help and died for lack of it."
For Jack, who now lives with his wife Kate in Horam, East Sussex, the Gemini flight from Shuttleworth was a chance to celebrate Stuart's life and look back on the formative months of what became a lifelong friendship and an international NGO.
Reflecting on his first encouters with Stuart through a shared vision and Christian faith , Jack said, "Together we shared many novel experiences – first flying the Miles Gemini on the 30-airfield tour of the UK, and then the six-month survey of Central Africa in 1948. He was a pilot, a conscientious engineer, a pioneer and a man of resolute faith. To him, a setback meant a need for solution followed by corrective action."
During their 1948 Gemini survey, Stuart and Jack travelled more than 10,000km visiting in excess of 100 remote outposts dotted across Central Africa. Jack recalls: "Everywhere we landed was somewhere new to us, and a lot of locals would never have seen a plane in the air – let alone in their village. We were met with total bewilderment, and people gathered round with great interest. But we explored whether we could help with the aims and objectives of local missions, helping clear airstrips or build hospitals in areas almost completely cut off."
Stuart confirmed the challenges of pioneering into unchartered territory in Hope Has Wings: "We had no navigatinal aids, our maps showed us nothing. We knew that if we got lost over the vast desert, we would be lost indeed. A sheet of sandpaper would make as accurate a map as the charts we carried on that first survey!"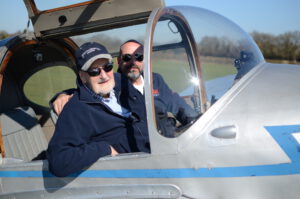 Sitting beside the Gemini owner Stu Blanchard on Saturday, Jack had a birds-eye view of the Shuttleworth collection, which is home to some of the world's oldest flying aircraft, including a De Havilland Rapide – which Jack and Stuart flew for MAF in Sudan during the 1950s. Jack's memorial flight was the first time a Gemini and Rapide have been seen side-by-side, a historic moment for the aviation charirty.
Summing up this historic moment in aviation history at Shuttleworth, Jack concluded: "Stuart was a great friend, a man of vision, devoted to MAF since the early days in 1947. Pioneering in Africa wasn't a question of hope – we just went out and did it! If Stuart were here today, I would simply say to him: 'Stuart – you done good.'"
Jack is raising money in Stuart's memory via
JustGiving: https://www.justgiving.com/fundraising/jackhemmings100