"Virtual" Holy Communion Friday 7th August 2020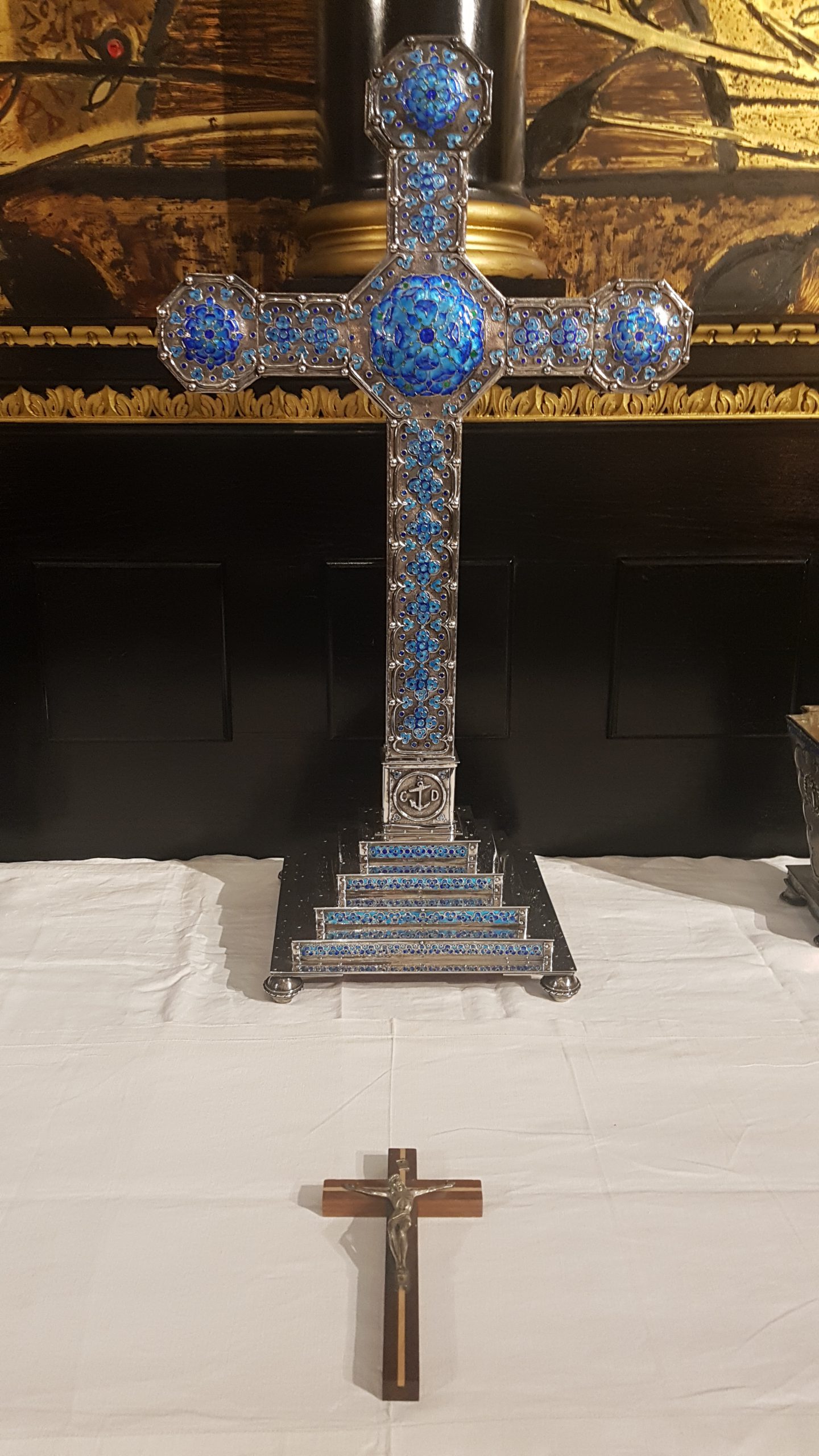 Message from our Padre, David Osborn:
Good Afternoon, thank you for joining us for our regular Wednesday afternoon act of Holy Communion.
As we come together virtually, in the presence of our Lord, take a little time after our Communion to pray for all effected by the virus pandemic, pray also for family, friends, neighbours and colleagues.
This Sunday, I will be holding our service by PodCast, I shall post details in our News section on the website and on our Facebook, Twitter and Instagram accounts. Please join us on Sunday at 11.00.
God Bless you and your family
David Osborn
Act of Spiritual Communion
First settle yourself quietly without distractions.
Turn the phone and TV off.
You might want to play quiet, reflective music in the background.
You may want to light a candle as a focus.
You could even set up a 'prayer corner' with any religious images, statues, candles etc.
Be still, and know that God is with you.
In the name of the Father and of the Son and of the Holy Spirit.
Amen.
Now call to mind your sins and make this act of contrition:
Lord Jesus Christ, Son of the living God, have mercy on me, a sinner.
Ask God for his forgiveness:
May the Lord in all his mercy, grant me forgiveness of my sins, deliver me from evil, and bring me to the joy of eternal life.
Amen.
At this point read the Opening Prayer (Collect) for the day – or for the previous Sunday if you have this available from a pewsheet or online. If not, then use this general prayer:
O Lord our God, accept the fervent prayers of your people; in the multitude of your mercies look with compassion upon us and all who turn to you for help; for you are gracious, O lover of souls, and to you we give glory, Father, Son, and Holy Spirit, now and for ever.
Amen.
Now read the Gospel of the day or of the previous Sunday. If you have no access to online resources or no current pewsheet, you may read one of the following Gospel passages:
Luke 8.4-15
The Parable of the Sower
When a great crowd gathered and people from town after town came to him, he said in a
parable: 'A sower went out to sow his seed; and as he sowed, some fell on the path and was
trampled on, and the birds of the air ate it up. Some fell on the rock; and as it grew up, it
withered for lack of moisture. Some fell among thorns, and the thorns grew with it and choked it.
Some fell into good soil, and when it grew, it produced a hundredfold.' As he said this, he called
out, 'Let anyone with ears to hear listen!'
The Purpose of the Parables
Then his disciples asked him what this parable meant. He said, 'To you it has been given to
know the secrets of the kingdom of God; but to others I speak in parables, so that
"looking they may not perceive,
and listening they may not understand."
The Parable of the Sower Explained
'Now the parable is this: The seed is the word of God. The ones on the path are those who have
heard; then the devil comes and takes away the word from their hearts, so that they may not
believe and be saved. The ones on the rock are those who, when they hear the word, receive it
with joy. But these have no root; they believe only for a while and in a time of testing fall away.
As for what fell among the thorns, these are the ones who hear; but as they go on their way,
they are choked by the cares and riches and pleasures of life, and their fruit does not mature.
But as for that in the good soil, these are the ones who, when they hear the word, hold it fast in
an honest and good heart, and bear fruit with patient endurance.