---
VE Day 75th Anniversary Service
---
Service Transcript
St Clement Danes VE Day 75th Anniversary Service.

We'll meet again
Welcome by Revd David Osborn

Choir Introit:
Lead me Lord –Wesley
Lead me Lord, Lead me in Thy righteousness, make Thy way plain before my face.
For it is Thou Lord, Thou Lord, only, that makest me dwell in safety
Lead me Lord, Lead me in true holiness, teach me to love and trust in Thee
Thou art our God, the God of our salvation, all nations shall praise Thy holy name.
The Gathering
We meet in the name of Jesus Christ,
the Prince of Peace,
whose will it is that wars may cease,
and all people know his peace.
75 years ago today Winston Churchill announced to the people of the United Kingdom
that the war in Europe was over.
Today we give thanks for the peace which followed nearly 6 years of World War,
we commemorate the lives of all of those who died in armed conflict or as civilians,
we remember the sacrifices made by so many at home and abroad,
we hold before God all places of war and violence today,
the members of the Armed Forces serving at this time, and those they leave behind,
and we pray in hope and faith for peace.
Let us pray.
Lord our God,
our defence in trouble and our refuge from the storm,
hear us as we remember and pray
on this 75th anniversary of Victory in Europe,
help us never to forget the sacrifices
which won for us our freedom,
and bless your world with peace;
for we ask it in the name of the Prince of Peace.
Amen.
Hymn: Thine be the glory
Reading
Revelation 14:6-7, 12-13
Then I saw another angel flying in mid-heaven, with an eternal gospel to proclaim to those who live on the earth - to every nation and tribe and language and people. He said in a loud voice, 'Fear God and give him glory, for the hour of his judgement has come; and worship him who made heaven and earth, the sea and the springs of water.'
Here is a call for the endurance of the saints, those who keep the commandments of God and hold fast to the faith of Jesus.
And I heard a voice from heaven saying, 'Write this: Blessed are the dead who from now on die in the Lord.' 'Yes,' says the Spirit, 'they will rest from their labours, for their deeds follow them.'
Hymn: City of God
Prayers
Let us pray for the peace of the world,
for our Royal family, our nation, our government,
for for members of the Royal Air Force, its Reserves and auxiliaries
for each other and for ourselves:
For those who served and died in World War II
O God of truth and justice, we hold before you those men and women who have died in active service, particularly in the Second World War,
whose sacrifice brought Victory in Europe. As we honour their courage and cherish their memory, may we put our faith in your future; for you are the source of life and hope, now and for ever. Amen.
For those who serve today
O Lord God of Hosts, stretch forth, we pray, your almighty arm to strengthen and protect our service men and women. Support them in times of conflict, and in their rest and training keep them safe from all evil; endue them with courage and loyalty; and grant that in all things they may serve without reproach; through Jesus Christ our Lord. Amen.
For the peace of the world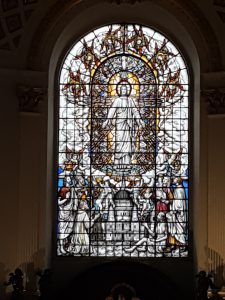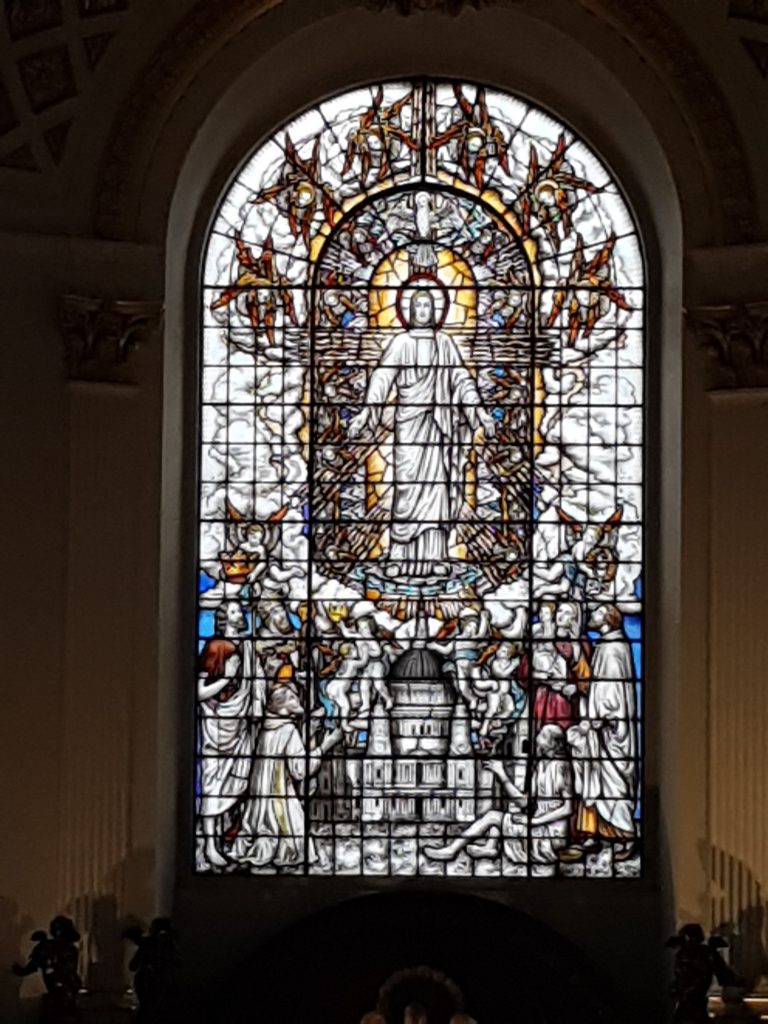 O God, who would fold both heaven and earth
in a single peace;
that the design of your great love lighten
upon the waste of our wraths and sorrows
and give peace to your church, peace among nations,
peace in our dwellings and peace in our hearts;
through Jesus Christ our Lord.
Amen.
A Prayer for the sovereign
Almighty God, the fountain of all goodness,
bless our Sovereign Lady Queen Elizabeth,
and all who are in authority under her;
that they may order all things
in wisdom and equity, righteousness and peace,
to the honour and glory of your name
and the good of your Church and people;
through Jesus Christ our Lord.
Amen.
Prayer of Saint Ignatius
Teach us, good Lord, to serve thee as thou deservest, to give and not to count the cost; to fight and not to heed the wounds; to toil and not to seek for rest; to labour and not to ask for any reward; except that of knowing that we do thy will.
Amen.
Hymn: God is our strength and refuge
Anthem:
Rejoice in the Lord alway –Redford
Rejoice in the Lord alway, and again I say rejoice.
Let your softness be known unto all men: the Lord is e'en at hand.
Be careful for nothing:
but in all prayer and supplications be manifest unto God with giving of thanks.
And the peace of God which passeth all understanding,
keep your hearts and minds through Christ Jesu. Amen
Act of Remembrance
Let us remember those who so selflessly gave their lives at home and abroad, whose sacrifice enables us to enjoy the peace and freedom we have today.
Let us remember those who came home wounded, physically and mentally, and the friends and family who cared for them.
Let us remember those who returned to restore their relationships and rebuild their working lives after years of dreadful conflict and turmoil. Let us remember the families that lost husbands, sons and sweethearts. Let us remember the service men, merchant seamen, miners, brave civilians and others from Commonwealth and Allied countries who fought, suffered, and died during several years of war.
Let us remember those in reserved occupation and the brave people who kept us safe on the home front - the doctors and nurses who cared for the wounded, the women and men who toiled in the fields, those who worked in the factories, who all played such a vital role in the war effort at home.
Let us pray,
O Lord our God,
as we remember, teach us the ways of peace.
As we treasure memories, teach us to hope.
As we give thanks for the sacrifices of the past,
help us to make your future in this world,
until your kingdom comes.
Amen.
Royal Air Force Collect
Almighty God, who has promised that they who wait upon thee shall renew their strength and mount up with wings, as eagles, we commend to thy fatherly protection all who serve in the Royal Air Force. Uplift and support us in our endeavour, that we may be a safeguard unto our most gracious Sovereign Lady Queen Elizabeth and a sure defence to our homeland. Help us to fulfil our several duties with honour, goodwill and integrity, and grant that we may prove to be worthy successors of those who by their valour and sacrifice did nobly save their day and generation; through Jesus Christ our Lord.
Amen.
Hymn: The day thou gavest Lord is ended
Address by the Chaplain-in-Chief
Anthem:
If ye love me –Tallis
If ye love me, keep my commandments, and I will pray the Father,
And He shall give you another comforter.
That He may bide with you for ever, ev'n the spirit of truth
The Blessing
God grant to the living, grace;
to the departed, rest;
to the Church, the Queen, the Commonwealth,
and all people, peace and concord;
and to us and all his servants, life everlasting;
and the blessing of God almighty,
the Father, the Son, and the Holy Spirit,
be upon you and remain with you always.
Amen.
Hymn: Now thank we all our God
The White Cliffs of Dover
(sung by Emma Brain-Gabbott)
The singing was recorded in the individual homes of the singers
Musicians of St Clement Danes:
Sopranos: Helen Parker & Emma Brain-Gabbott
Alto: William Purefoy
Tenor: Louis Watkins
Bass: Lawrence White
Director of Music and Organist: Simon Over