Palm Sunday
28th March 2021
Sunday Service
Rev David Osborn speaks this Palm Sunday,
28th March 2021
Please feel free to like this video on YouTube and Subscribe to the church's channel.
subscribe to our channel >
To make a donation to the church please click the button below.
Palm Sunday
Dear Friends in Christ, during Lent we have been preparing by works of love and self-sacrifice to begin this solemn celebration in union with the Church throughout the world. Christ enters his own city to complete his work as Saviour, to suffer, to die and to rise again. Let us go with him in faith and love, so that, united with him in his sufferings, we may share his risen life.
Please hold up your cross and say this prayer out loud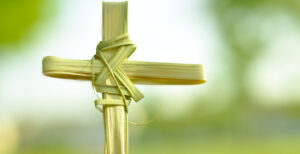 God our Saviour, whose Son Jesus Christ entered Jerusalem as Messiah to suffer and to die, let this cross be for us signs of his victory; and grant that we who bear it in his name may ever hail him as our King, and follow him in the way that leads to eternal life; who lives and reigns with you and the Holy Spirit, now and for ever. Amen.
The Prayer for Palm Sunday
Let us pray for a closer union with Christ in his suffering and in his glory.
Almighty and everlasting God,
Who in your tender love towards the human
Sent your Son our Saviour Jesus Christ
To take upon him our flesh and to suffer death upon the cross: Grant that we may follow the example of his patience and humility and also be made partakers of his resurrection;
Through Jesus Christ our Lord.
Amen
Psalm: 31 verses 9 to 16:
Thou hast not shut me up into the hand of the enemy : but hast set my feet in a large room. Have mercy upon me, O Lord, for I am in trouble : and mine eye is consumed for very heaviness; yea, my soul and my body. For my life is waxen old with heaviness : and my years with mourning. My strength faileth me, because of mine iniquity : and my bones are consumed. I became a reproof among all mine enemies, but especially among my neighbours : and they of mine acquaintance were afraid of me; and they that did see me without conveyed themselves from me. I am clean forgotten, as a dead man out of mind : I am become like a broken vessel. For I have heard the blasphemy of the multitude : and fear is on every side, while they conspire together against me, and take their counsel to take away my life. But my hope hath been in thee, O Lord : I have said, Thou art my God.
Mark 11 verses 1-11
Jesus' Triumphal Entry into Jerusalem
When they were approaching Jerusalem, at Bethphage and Bethany, near the Mount of Olives, he sent two of his disciples and said to them, 'Go into the village ahead of you, and immediately as you enter it, you will find tied there a colt that has never been ridden; untie it and bring it. If anyone says to you, "Why are you doing this?" just say this, "The Lord needs it and will send it back here immediately." ' They went away and found a colt tied near a door, outside in the street. As they were untying it, some of the bystanders said to them, 'What are you doing, untying the colt?' They told them what Jesus had said; and they allowed them to take it. Then they brought the colt to Jesus and threw their cloaks on it; and he sat on it. Many people spread their cloaks on the road, and others spread leafy branches that they had cut in the fields. Then those who went ahead and those who followed were shouting,
'Hosanna!
   Blessed is the one who comes in the name of the Lord!
   Blessed is the coming kingdom of our ancestor David!
Hosanna in the highest heaven!'
Then he entered Jerusalem and went into the temple; and when he had looked around at everything, as it was already late, he went out to Bethany with the twelve.
Palm Sunday Prayers Of Intercession
For Christian people, that through the suffering of disunity there may grow a rich union in Christ, let us pray to the Lord.
Lord, have mercy.

For members of the Royal Air Force, its Reserves and
Auxiliaries and in thanksgiving for over one hundred years of inspiration, service and commitment let us pray to the Lord.
Lord, have mercy.

For those who make laws, interpret and administer them, that our common life may be ordered in justice and mercy, for our Queen and Royal Family let us pray to the Lord.
Lord, have mercy.
For those who have the courage and honesty to work
openly for justice and peace let us pray to the Lord.
Lord, have mercy.

For those who, weighed down with hardship, failure, or sorrow feel that God is far from them, let us pray to the Lord.
Lord, have mercy.
That we, with those who have died in faith, especially those commemorated in the books and memorials of this church, may find mercy in the day of Christ,
let us pray to the Lord.
Lord, have mercy. Holy God, holy and strong, holy and immortal, have mercy upon us.
The Lord's Prayer
Let us pray with confidence as our Saviour has taught us
All Our Father, who art in heaven, hallowed be thy name; thy kingdom come; thy will be done; on earth as it is in heaven. Give us this day our daily bread. And forgive us our trespasses, as we forgive those who trespass against us. And lead us not into temptation; but deliver us from evil. For thine is the kingdom, the power and the glory, for ever and ever. Amen.
The Blessing
May the Father, who so loved the world that he gave his only Son, bring us by faith to his eternal life.
Amen.
May Christ, who accepted the cup of sacrifice in obedience to the Father's will, keep us steadfast as we walk with him the way of his cross.
Amen.
May the Spirit, who strengthens us to suffer with Christ that we may share his glory, set our minds on life and peace.
Amen.
And the blessing of God almighty, the Father, the Son, and the Holy Spirit, be among us and remain with us always.
Amen.