Easter Sunday
4th April 2021
Sunday Service
Rev David Osborn speaks this Easter Sunday,
4th April 2021
Please feel free to like this video on YouTube and Subscribe to the church's channel.
subscribe to our channel >
To make a donation to the church please click the button below.
Easter Sunday
Blessed are you, Sovereign God, Conqueror of death; your light invades the places of darkness, restores sight and joy to the blind, and summons those enslaved by death to walk free in hope. For us Jesus poured out his life like water, and lay bound in the dusk of death. In his rising a new world is created, where light, goodness and joy spring forth. The rule of sin is broken for ever; love and truth drive our hatred and folly; a new humanity is clothed with your love and sings with hope of beauty to come. Joy of those who walk in darkness, Destroyer of death, Hope of resurrection, blessed are you, Sovereign God, Light of the World.
Amen.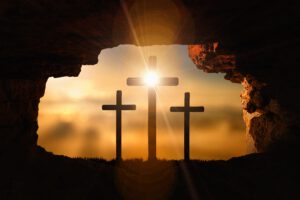 Christ our Passover Lamb has been sacrificed for us. Let us therefore rejoice by putting away all malice and evil and confessing our sins with a sincere and true heart.
Almighty God, our heavenly Father, we have sinned against you and against our neighbour, in thought and word and deed, through negligence, through weakness, through our own deliberate fault. We are heartily sorry and repent of all our sins. For the sake of your Son Jesus Christ, who died for us, forgive us all that is past, and grant that we may serve you in newness of life to the glory of your name.
Amen.
May the Father of all mercies cleanse you from your sins, and restore you in his image to the praise and glory of his name, through Jesus Christ our Lord.
Amen.
The prayer for today Easter Day
Lord of all life and power, who through the mighty resurrection of thy Son hast overcome the old order of sin and death to make all things new in him: grant that we, being dead to sin and alive to thee in Jesus Christ, may reign with him in glory; to whom with thee and the Holy Spirit be praise and honour, glory and might, now and in all eternity.
Amen.
The Easter Anthems
Christ our Passover is sacrificed for us : therefore let us keep the feast; Not with the old leaven nor with the leaven of malice and wickedness: but with the unleavened bread of sincerity and truth. Christ being raise from the dead dieth no more : death hath no more dominion over him. For in that he died, he died unto sin once : but in that he liveth, he liveth unto God. Likewise reckon ye also yourselves to be dead indeed unto sin : but alive unto God through Jesus Christ our Lord. Christ is risen from the dead : and become the first-fruits of them that slept. For since by man came death : by man came also the resurrection of the dead. For as in Adam all die : even so in Christ shall all be made alive.
Glory be to the Father, and to the Son: and to the Holy Ghost; As it was in the beginning, is now, and ever shall be: world without end.
Amen.

Reading:
John 20 verses 1-18
The Resurrection of Jesus
Early on the first day of the week, while it was still dark, Mary Magdalene came to the tomb and saw that the stone had been removed from the tomb. So she ran and went to Simon Peter and the other disciple, the one whom Jesus loved, and said to them, 'They have taken the Lord out of the tomb, and we do not know where they have laid him.' Then Peter and the other disciple set out and went towards the tomb. The two were running together, but the other disciple outran Peter and reached the tomb first. He bent down to look in and saw the linen wrappings lying there, but he did not go in. Then Simon Peter came, following him, and went into the tomb. He saw the linen wrappings lying there, and the cloth that had been on Jesus' head, not lying with the linen wrappings but rolled up in a place by itself. Then the other disciple, who reached the tomb first, also went in, and he saw and believed; for as yet they did not understand the scripture, that he must rise from the dead. Then the disciples returned to their homes.
But Mary stood weeping outside the tomb. As she wept, she bent over to look into the tomb; and she saw two angels in white, sitting where the body of Jesus had been lying, one at the head and the other at the feet. They said to her, 'Woman, why are you weeping?' She said to them, 'They have taken away my Lord, and I do not know where they have laid him.' When she had said this, she turned round and saw Jesus standing there, but she did not know that it was Jesus. Jesus said to her, 'Woman, why are you weeping? For whom are you looking?' Supposing him to be the gardener, she said to him, 'Sir, if you have carried him away, tell me where you have laid him, and I will take him away.' Jesus said to her, 'Mary!' She turned and said to him in Hebrew, 'Rabbouni!' (which means Teacher). Jesus said to her, 'Do not hold on to me, because I have not yet ascended to the Father. But go to my brothers and say to them, "I am ascending to my Father and your Father, to my God and your God." ' Mary Magdalene went and announced to the disciples, 'I have seen the Lord'; and she told them that he had said these things to her.
The Lord's Prayer
Let us pray with confidence as our Saviour has taught us
All Our Father, who art in heaven, hallowed be thy name; thy kingdom come; thy will be done; on earth as it is in heaven. Give us this day our daily bread. And forgive us our trespasses, as we forgive those who trespass against us. And lead us not into temptation; but deliver us from evil. For thine is the kingdom, the power and the glory, for ever and ever.
Amen.