Bible Reading and Prayer
for Thursday 18th June 2020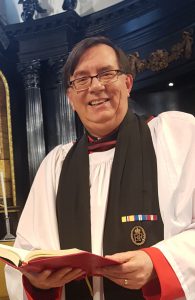 Welcome to our virtual morning Bible Reading & Prayer for today.


Good morning.


Our beautiful church remains closed for the time being, as we all play our part in fighting the invisible enemy of Covid 19.


As we continue to work from home, or on the front line with our brave key workers, I hope our daily prayers and readings from the Bible, bring you hope, some comfort and sustain you during this difficult time.


Our church remains empty, but together, in a virtual world, we give thanks to our Lord and pray for those whose lives have been touched during this time.
Blessings to you and your family.
David 
Bible Reading
Matthew 6.7-15
'When you are praying, do not heap up empty phrases as the Gentiles do; for they think that
they will be heard because of their many words. Do not be like them, for your Father knows
what you need before you ask him.
'Pray then in this way:
Our Father in heaven,
hallowed be your name.
Your kingdom come.
Your will be done,
on earth as it is in heaven.
Give us this day our daily bread.
And forgive us our debts,
as we also have forgiven our debtors.
And do not bring us to the time of trial,
but rescue us from the evil one.
For if you forgive others their trespasses, your heavenly Father will also forgive you; but if you
do not forgive others, neither will your Father forgive your trespasses.
Prayer for today
A Franciscan prayer
May the power of your love, O Lord, fiery and sweet as honey, so absorb our hearts as to
withdraw them from all that is under heaven. Grant that we may be ready to die for love of your
love as you died for love of our love. Amen.