Bible Reading and Prayer
for Wednesday 5th August 2020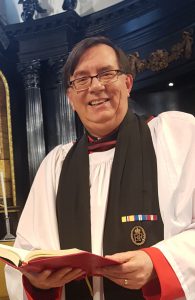 Welcome to our virtual morning Bible Reading & Prayer for today.


Good morning.


Our beautiful church remains closed for the time being, as we all play our part in fighting the invisible enemy of Covid 19.


As we continue to work from home, or on the front line with our brave key workers, I hope our daily prayers and readings from the Bible, bring you hope, some comfort and sustain you during this difficult time.


Our church remains empty, but together, in a virtual world, we give thanks to our Lord and pray for those whose lives have been touched during this time.
Blessings to you and your family.
David 
Bible Reading
Oswald, King of Northumbria, Martyr, 642
Matthew 15.21-28
Jesus left that place and went away to the district of Tyre and Sidon. Just then a Canaanite
woman from that region came out and started shouting, 'Have mercy on me, Lord, Son of David;
my daughter is tormented by a demon.' But he did not answer her at all. And his disciples came
and urged him, saying, 'Send her away, for she keeps shouting after us.' He answered, 'I was
sent only to the lost sheep of the house of Israel.' But she came and knelt before him, saying,
'Lord, help me.' He answered, 'It is not fair to take the children's food and throw it to the dogs.'
She said, 'Yes, Lord, yet even the dogs eat the crumbs that fall from their masters' table.' Then
Jesus answered her, 'Woman, great is your faith! Let it be done for you as you wish.' And her
daughter was healed instantly.
Prayer for today, King Oswald
Lord God almighty who so kindled the faith of King Oswald with your Spirit that he set up the
sign of the cross in his kingdom and turned his people to the light of Christ, grant that we being
fired by the same Spirit may always bear our cross before the world and be found faithful
servants of the gospel, through Jesus Christ your son our Lord. Amen