Bible Reading and Prayer
for Wednesday 22nd July 2020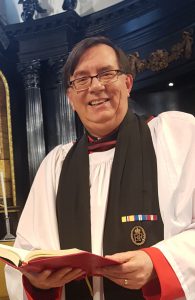 Welcome to our virtual morning Bible Reading & Prayer for today.


Good morning.


Our beautiful church remains closed for the time being, as we all play our part in fighting the invisible enemy of Covid 19.


As we continue to work from home, or on the front line with our brave key workers, I hope our daily prayers and readings from the Bible, bring you hope, some comfort and sustain you during this difficult time.


Our church remains empty, but together, in a virtual world, we give thanks to our Lord and pray for those whose lives have been touched during this time.
Blessings to you and your family.
David 
Bible Reading
John 20.1-2, 11-18
The Resurrection of Jesus
Early on the first day of the week, while it was still dark, Mary Magdalene came to the tomb and
saw that the stone had been removed from the tomb. So she ran and went to Simon Peter and the
other disciple, the one whom Jesus loved, and said to them, 'They have taken the Lord out of the
tomb, and we do not know where they have laid him.'
Jesus Appears to Mary Magdalene
But Mary stood weeping outside the tomb. As she wept, she bent over to look into the tomb; and
she saw two angels in white, sitting where the body of Jesus had been lying, one at the head and
the other at the feet. They said to her, 'Woman, why are you weeping?' She said to them, 'They
have taken away my Lord, and I do not know where they have laid him.' When she had said this,
she turned round and saw Jesus standing there, but she did not know that it was Jesus. Jesus
said to her, 'Woman, why are you weeping? For whom are you looking?' Supposing him to be the
gardener, she said to him, 'Sir, if you have carried him away, tell me where you have laid him, and
I will take him away.' Jesus said to her, 'Mary!' She turned and said to him in Hebrew, 'Rabbouni!'
(which means Teacher). Jesus said to her, 'Do not hold on to me, because I have not yet
ascended to the Father. But go to my brothers and say to them, "I am ascending to my Father and
your Father, to my God and your God." ' Mary Magdalene went and announced to the disciples, 'I
have seen the Lord'; and she told them that he had said these things to her.
Prayer for today
Almighty God, whose Son restored Mary Magdalene to health of mind and body and called her to
be a witness to his resurrection: forgive our sins and heal us by your grace, that we may serve you
in the power of his risen life; who is alive and reigns with you, in the unity of the Holy Spirit, one
God, now and for ever. Amen