Bible Reading and Prayer
for Wednesday 16th September 2020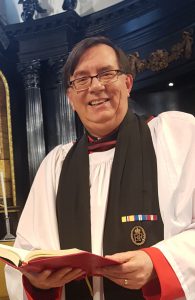 Welcome to our virtual morning Bible Reading & Prayer for today.


Our beautiful church is now open for private prayer and Sunday Services. To find out about event at the church please visit the Events Calendar.
As we continue to work from home, or on the front line with our brave key workers, I hope our daily prayers and readings from the Bible, bring you hope, some comfort and sustain you during this difficult time.
Blessings to you and your family.
David 
Bible Reading
Ninian, Bishop of Galloway, Apostle of the Picts, c.432
Mark 16.15-end
And he said to them, 'Go into all the world and proclaim the good news to the whole creation. The one who believes and is baptized will be saved; but the one who does not believe will be condemned. And these signs will accompany those who believe: by using my name they will cast out demons; they will speak in new tongues; they will pick up snakes in their hands, and if they drink any deadly thing, it will not hurt them; they will lay their hands on the sick, and they will recover.' 
So then the Lord Jesus, after he had spoken to them, was taken up into heaven and sat down at the right hand of God. And they went out and proclaimed the good news everywhere, while the Lord worked with them and confirmed the message by the signs that accompanied it.
Prayer for today: St Ninian
Almighty and everlasting God,
who called your servant Ninian to preach the gospel to the people of northern Britain:
raise up in this and every land
heralds and evangelists of your kingdom,
that your Church may make known the immeasurable riches of your Son our Saviour Jesus Christ,
who is alive and reigns with you,
in the unity of the Holy Spirit,
one God, now and for ever. Amen