Bible Reading and Prayer
for Wednesday 15th July 2020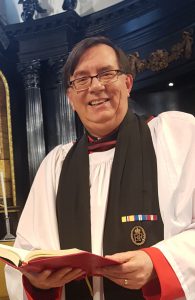 Welcome to our virtual morning Bible Reading & Prayer for today.


Good morning.


Our beautiful church remains closed for the time being, as we all play our part in fighting the invisible enemy of Covid 19.


As we continue to work from home, or on the front line with our brave key workers, I hope our daily prayers and readings from the Bible, bring you hope, some comfort and sustain you during this difficult time.


Our church remains empty, but together, in a virtual world, we give thanks to our Lord and pray for those whose lives have been touched during this time.
Blessings to you and your family.
David 
Bible Reading
James 5.7-11, 13-18
Patience in Suffering
Be patient, therefore, beloved, until the coming of the Lord. The farmer waits for the precious crop
from the earth, being patient with it until it receives the early and the late rains. You also must be
patient. Strengthen your hearts, for the coming of the Lord is near. Beloved, do not grumble
against one another, so that you may not be judged. See, the Judge is standing at the doors! As
an example of suffering and patience, beloved, take the prophets who spoke in the name of the
Lord. Indeed we call blessed those who showed endurance. You have heard of the endurance of
Job, and you have seen the purpose of the Lord, how the Lord is compassionate and merciful.
Are any among you suffering? They should pray. Are any cheerful? They should sing songs of
praise. Are any among you sick? They should call for the elders of the church and have them pray
over them, anointing them with oil in the name of the Lord. The prayer of faith will save the sick,
and the Lord will raise them up; and anyone who has committed sins will be forgiven. Therefore
confess your sins to one another, and pray for one another, so that you may be healed. The prayer
of the righteous is powerful and effective. Elijah was a human being like us, and he prayed
fervently that it might not rain, and for three years and six months it did not rain on the earth. Then
he prayed again, and the heaven gave rain and the earth yielded its harvest.
Prayer for today, St Swithun's Day
St Swithun, Bishop of Winchester, c862
Almighty God by whose grace we celebrate again the feast of your servant Swithun, grant that as
he governed with gentleness the people committed to his care, so we rejoicing in our Christian
inheritance, may always seek to build up your church in unity and love; through Jesus Christ your
Son, our Lord; Amen