Bible Reading and Prayer
for Tuesday 30th June 2020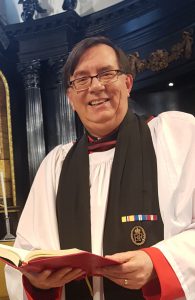 Welcome to our virtual morning Bible Reading & Prayer for today.


Good morning.


Our beautiful church remains closed for the time being, as we all play our part in fighting the invisible enemy of Covid 19.


As we continue to work from home, or on the front line with our brave key workers, I hope our daily prayers and readings from the Bible, bring you hope, some comfort and sustain you during this difficult time.


Our church remains empty, but together, in a virtual world, we give thanks to our Lord and pray for those whose lives have been touched during this time.
Blessings to you and your family.
David 
Bible Reading
Jesus Stills the Storm
And when he got into the boat, his disciples followed him. A gale arose on the lake, so great that
the boat was being swamped by the waves; but he was asleep. And they went and woke him
up, saying, 'Lord, save us! We are perishing!' And he said to them, 'Why are you afraid, you of
little faith?' Then he got up and rebuked the winds and the sea; and there was a dead calm.
They were amazed, saying, 'What sort of man is this, that even the winds and the sea obey
him?'
Prayer for today
Almighty and eternal God, you have revealed yourself as Father, Son and Holy Spirit, and live
and reign in the perfect unity of love: hold us firm in this faith, that we may know you in all your
ways and evermore rejoice in your eternal glory, who are three Persons yet one God, now and
for ever. Amen.