Bible Reading and Prayer
for Tuesday 25th August 2020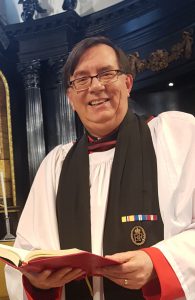 Welcome to our virtual morning Bible Reading & Prayer for today.


Good morning.


Our beautiful church remains closed for the time being, as we all play our part in fighting the invisible enemy of Covid 19.


As we continue to work from home, or on the front line with our brave key workers, I hope our daily prayers and readings from the Bible, bring you hope, some comfort and sustain you during this difficult time.


Our church remains empty, but together, in a virtual world, we give thanks to our Lord and pray for those whose lives have been touched during this time.
Blessings to you and your family.
David 
Bible Reading
Philippians 3.7-end
Yet whatever gains I had, these I have come to regard as loss because of Christ. More than
that, I regard everything as loss because of the surpassing value of knowing Christ Jesus my
Lord. For his sake I have suffered the loss of all things, and I regard them as rubbish, in order
that I may gain Christ and be found in him, not having a righteousness of my own that comes
from the law, but one that comes through faith in Christ, the righteousness from God based on
faith. I want to know Christ and the power of his resurrection and the sharing of his sufferings by
becoming like him in his death, if somehow I may attain the resurrection from the dead.
Pressing towards the Goal
Not that I have already obtained this or have already reached the goal; but I press on to make it
my own, because Christ Jesus has made me his own. Beloved, I do not consider that I have
made it my own; but this one thing I do: forgetting what lies behind and straining forward to what
lies ahead, I press on towards the goal for the prize of the heavenly call of God in Christ Jesus.
Let those of us then who are mature be of the same mind; and if you think differently about
anything, this too God will reveal to you. Only let us hold fast to what we have attained.
Brothers and sisters, join in imitating me, and observe those who live according to the example
you have in us. For many live as enemies of the cross of Christ; I have often told you of them,
and now I tell you even with tears. Their end is destruction; their god is the belly; and their glory
is in their shame; their minds are set on earthly things. But our citizenship is in heaven, and it is
from there that we are expecting a Saviour, the Lord Jesus Christ. He will transform the body of
our humiliation so that it may be conformed to the body of his glory, by the power that also
enables him to make all things subject to himself.
Prayer for today
Keep us in peace, O Christ our God, under the protection of your holy and venerable cross;
save us from our enemies, visible and invisible, and count us worthy to glorify you with
thanksgiving, with the Father and the Holy Spirit, now and for ever, world without end. Amen.
an Armenian Orthodox dismissal