Bible Reading and Prayer
for Tuesday 23rd June 2020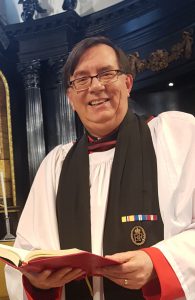 Welcome to our virtual morning Bible Reading & Prayer for today.


Good morning.


Our beautiful church remains closed for the time being, as we all play our part in fighting the invisible enemy of Covid 19.


As we continue to work from home, or on the front line with our brave key workers, I hope our daily prayers and readings from the Bible, bring you hope, some comfort and sustain you during this difficult time.


Our church remains empty, but together, in a virtual world, we give thanks to our Lord and pray for those whose lives have been touched during this time.
Blessings to you and your family.
David 
Bible Reading
Matthew 25.1-13
The Parable of the Ten Bridesmaids
'Then the kingdom of heaven will be like this. Ten bridesmaids took their lamps and went to
meet the bridegroom. Five of them were foolish, and five were wise. When the foolish took their
lamps, they took no oil with them; but the wise took flasks of oil with their lamps. As the
bridegroom was delayed, all of them became drowsy and slept. But at midnight there was a
shout, "Look! Here is the bridegroom! Come out to meet him." Then all those bridesmaids got up
and trimmed their lamps. The foolish said to the wise, "Give us some of your oil, for our lamps
are going out." But the wise replied, "No! there will not be enough for you and for us; you had
better go to the dealers and buy some for yourselves." And while they went to buy it, the
bridegroom came, and those who were ready went with him into the wedding banquet; and the
door was shut. Later the other bridesmaids came also, saying, "Lord, lord, open to us." But he
replied, "Truly I tell you, I do not know you." Keep awake therefore, for you know neither the day nor the hour.
Prayer for today St Etheldreda
Eternal God who bestowed such grace upon your servant Etheldreda that she gave herself
wholly to the life of prayer and to the service of your true religion, grant that we like her, may so
live our lives on earth seeking your kingdom that by your guiding we may be joined to the
glorious fellowship of your saints, through Jesus Christ our Lord. Amen.