Bible Reading and Prayer
for Tuesday 1st September 2020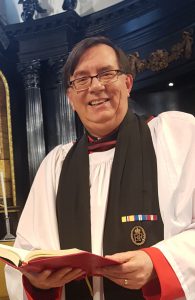 Welcome to our virtual morning Bible Reading & Prayer for today.


Good morning.


Our beautiful church remains closed for the time being, as we all play our part in fighting the invisible enemy of Covid 19.


As we continue to work from home, or on the front line with our brave key workers, I hope our daily prayers and readings from the Bible, bring you hope, some comfort and sustain you during this difficult time.


Our church remains empty, but together, in a virtual world, we give thanks to our Lord and pray for those whose lives have been touched during this time.
Blessings to you and your family.
David 
Bible Reading
Luke 4.31-37
He went down to Capernaum, a city in Galilee, and was teaching them on the sabbath. They were
astounded at his teaching, because he spoke with authority. In the synagogue there was a man
who had the spirit of an unclean demon, and he cried out with a loud voice, 'Let us alone! What
have you to do with us, Jesus of Nazareth? Have you come to destroy us? I know who you are,
the Holy One of God.' But Jesus rebuked him, saying, 'Be silent, and come out of him!' When the
demon had thrown him down before them, he came out of him without having done him any harm.
They were all amazed and kept saying to one another, 'What kind of utterance is this? For with
authority and power he commands the unclean spirits, and out they come!' And a report about him
began to reach every place in the region.
Prayer for today
Almighty and everlasting God, we thank you that you have brought us safely to the beginning of
this day. Keep us from falling into sin or running into danger, order us in all our doings and guide
us to do always what is righteous in your sight; through Jesus Christ our Lord. Amen.
adapted from The Book of Common Prayer