Bible Reading and Prayer
for Tuesday 18th August 2020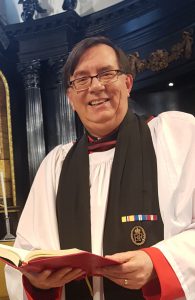 Welcome to our virtual morning Bible Reading & Prayer for today.


Good morning.


Our beautiful church remains closed for the time being, as we all play our part in fighting the invisible enemy of Covid 19.


As we continue to work from home, or on the front line with our brave key workers, I hope our daily prayers and readings from the Bible, bring you hope, some comfort and sustain you during this difficult time.


Our church remains empty, but together, in a virtual world, we give thanks to our Lord and pray for those whose lives have been touched during this time.
Blessings to you and your family.
David 
Bible Reading
Matthew 19.23-end
Then Jesus said to his disciples, 'Truly I tell you, it will be hard for a rich person to enter the
kingdom of heaven. Again I tell you, it is easier for a camel to go through the eye of a needle
than for someone who is rich to enter the kingdom of God.' When the disciples heard this, they
were greatly astounded and said, 'Then who can be saved?' But Jesus looked at them and said,
'For mortals it is impossible, but for God all things are possible.'
Then Peter said in reply, 'Look, we have left everything and followed you. What then will we
have?' Jesus said to them, 'Truly I tell you, at the renewal of all things, when the Son of Man is
seated on the throne of his glory, you who have followed me will also sit on twelve thrones,
judging the twelve tribes of Israel. And everyone who has left houses or brothers or sisters or
father or mother or children or fields, for my name's sake, will receive a hundredfold, and will
inherit eternal life. But many who are first will be last, and the last will be first.
Prayer for today
O Holy Spirit, giver of light and life, impart to us thoughts better than our own thoughts, and
prayers better than our own prayers, and powers better than our own powers, that we may
spend and be spent in the ways of love and goodness, after the perfect image of our Lord and
Saviour Jesus Christ. Amen.
Eric Milner-White and G W Briggs, Daily Prayer (1941)