Bible Reading and Prayer
for Tuesday 15th September 2020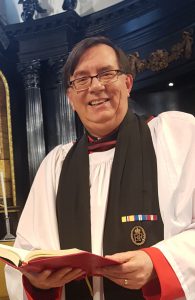 Welcome to our virtual morning Bible Reading & Prayer for today, Battle of Britain Day.


Our beautiful church is now open for private prayer and Sunday Services. To find out about event at the church please visit the Events Calendar.
As we continue to work from home, or on the front line with our brave key workers, I hope our daily prayers and readings from the Bible, bring you hope, some comfort and sustain you during this difficult time.
Blessings to you and your family.
David 
Bible Reading
Isaiah Chapter 40 verse 28 to Chapter 41 verse 2

Have you not known? Have you not heard? The Lord is the everlasting God, the Creator of the
ends of the earth. He does not faint or grow weary; his understanding is unsearchable. He gives
power to the faint, and strengthens the powerless. Even youths will faint and grow weary, and the
young will fall exhausted; but those who wait for the Lord shall renew their strength, they shall
mount up with wings like eagles, they shall run and not be weary, they shall walk and not faint.
Listen to me in silence, O coastlands; let the peoples renew their strength; let them approach, then
let them speak; let us together draw near for judgement.
Prayer for today
In thanksgiving for deliverance in the Battle of Britain:
O Lord our God, who art the refuge and strength of all who put their trust in you; we give you our
humble and hearty thanks for the deliverance granted to our nation in the Battle of Britain, and for
those who by their sacrifice won that deliverance for us. Teach us, we pray you, as we honour
their memory and call to mind your great mercy, to renew the dedication of our lives to your
service, and always to use our freedom for your glory; through Jesus Christ our Lord. Amen