Bible Reading and Prayer
for Thursday 6th August 2020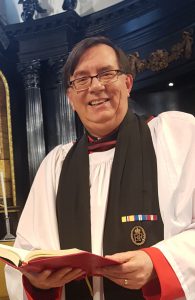 Welcome to our virtual morning Bible Reading & Prayer for today.


Good morning.


Our beautiful church remains closed for the time being, as we all play our part in fighting the invisible enemy of Covid 19.


As we continue to work from home, or on the front line with our brave key workers, I hope our daily prayers and readings from the Bible, bring you hope, some comfort and sustain you during this difficult time.


Our church remains empty, but together, in a virtual world, we give thanks to our Lord and pray for those whose lives have been touched during this time.
Blessings to you and your family.
David 
Bible Reading
Feast of the Transfiguration
Luke 9.28-36
The Transfiguration
Now about eight days after these sayings Jesus took with him Peter and John and James, and
went up on the mountain to pray. And while he was praying, the appearance of his face
changed, and his clothes became dazzling white. Suddenly they saw two men, Moses and
Elijah, talking to him. They appeared in glory and were speaking of his departure, which he was
about to accomplish at Jerusalem. Now Peter and his companions were weighed down with
sleep; but since they had stayed awake, they saw his glory and the two men who stood with
him. Just as they were leaving him, Peter said to Jesus, 'Master, it is good for us to be here; let
us make three dwellings, one for you, one for Moses, and one for Elijah'—not knowing what he
said. While he was saying this, a cloud came and overshadowed them; and they were terrified
as they entered the cloud. Then from the cloud came a voice that said, 'This is my Son, my
Chosen; listen to him!' When the voice had spoken, Jesus was found alone. And they kept silent
and in those days told no one any of the things they had seen.
Prayer for today
Father in heaven, whose Son Jesus Christ was wonderfully transfigured before chosen
witnesses upon the holy mountain, and spoke of the exodus he would accomplish at Jerusalem:
give us strength so to hear his voice and bear our cross that in the world to come we may see
him as he is; who is alive and reigns with you, in the unity of the Holy Spirit, one God, now and
for ever. Amen.