Bible Reading and Prayer
for Thursday 2nd July 2020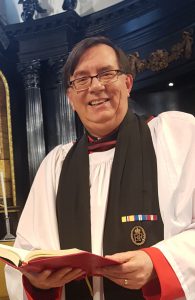 Welcome to our virtual morning Bible Reading & Prayer for today.


Good morning.


Our beautiful church remains closed for the time being, as we all play our part in fighting the invisible enemy of Covid 19.


As we continue to work from home, or on the front line with our brave key workers, I hope our daily prayers and readings from the Bible, bring you hope, some comfort and sustain you during this difficult time.


Our church remains empty, but together, in a virtual world, we give thanks to our Lord and pray for those whose lives have been touched during this time.
Blessings to you and your family.
David 
Bible Reading
Matthew 9.1-8
And after getting into a boat he crossed the water and came to his own town.
Jesus Heals a Paralytic
And just then some people were carrying a paralysed man lying on a bed. When Jesus saw
their faith, he said to the paralytic, 'Take heart, son; your sins are forgiven.' Then some of the
scribes said to themselves, 'This man is blaspheming.' But Jesus, perceiving their thoughts,
said, 'Why do you think evil in your hearts? For which is easier, to say, "Your sins are forgiven",
or to say, "Stand up and walk"? But so that you may know that the Son of Man has authority on
earth to forgive sins'—he then said to the paralytic—'Stand up, take your bed and go to your
home.' And he stood up and went to his home. When the crowds saw it, they were filled with
awe, and they glorified God, who had given such authority to human beings.
Prayer for today
O God, who would fold both heaven and earth in a single peace:
let the design of thy great love
lighten upon the waste of our wraths and sorrows:
and give peace to thy Church,
peace among nations,
peace in our dwellings,
and peace in our hearts:
through thy Son our Saviour Jesus Christ.
Amen.