Bible Reading and Prayer
for Thursday 28th August 2020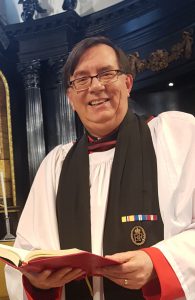 Welcome to our virtual morning Bible Reading & Prayer for today.


Good morning.


Our beautiful church remains closed for the time being, as we all play our part in fighting the invisible enemy of Covid 19.


As we continue to work from home, or on the front line with our brave key workers, I hope our daily prayers and readings from the Bible, bring you hope, some comfort and sustain you during this difficult time.


Our church remains empty, but together, in a virtual world, we give thanks to our Lord and pray for those whose lives have been touched during this time.
Blessings to you and your family.
David 
Bible Reading
Monica, Mother of Augustine of Hippo, 387
Proverbs 10.1-12
Wise Sayings of Solomon

The proverbs of Solomon.
A wise child makes a glad father,
but a foolish child is a mother's grief.
Treasures gained by wickedness do not profit,
but righteousness delivers from death.
The Lord does not let the righteous go hungry,
but he thwarts the craving of the wicked.
A slack hand causes poverty,
but the hand of the diligent makes rich.
A child who gathers in summer is prudent,
but a child who sleeps in harvest brings shame.
Blessings are on the head of the righteous,
but the mouth of the wicked conceals violence.
The memory of the righteous is a blessing,
but the name of the wicked will rot.
The wise of heart will heed commandments,
but a babbling fool will come to ruin.
Whoever walks in integrity walks securely,
but whoever follows perverse ways will be found out.
Whoever winks the eye causes trouble,
but the one who rebukes boldly makes peace.
The mouth of the righteous is a fountain of life,
but the mouth of the wicked conceals violence.
Hatred stirs up strife,
but love covers all offences.
Prayer for today, St Monica
Faithful God, who strengthened Monica, the mother of Augustine, with wisdom, and through her
patient endurance encouraged him to seek after you: give us the will to persist in prayer that
those who stray from you may be brought to faith in your Son Jesus Christ our Lord, who is alive
and reigns with you, in the unity of the Holy Spirit, one God, now and for ever. Amen.