Bible Reading and Prayer
for Saturday 26th June 2020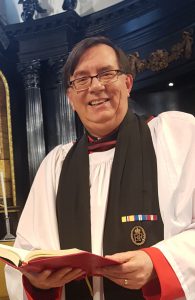 Welcome to our virtual morning Bible Reading & Prayer for today.


Good morning.


Our beautiful church remains closed for the time being, as we all play our part in fighting the invisible enemy of Covid 19.


As we continue to work from home, or on the front line with our brave key workers, I hope our daily prayers and readings from the Bible, bring you hope, some comfort and sustain you during this difficult time.


Our church remains empty, but together, in a virtual world, we give thanks to our Lord and pray for those whose lives have been touched during this time.
Blessings to you and your family.
David 
Bible Reading
Matthew 8.5-17
Jesus Heals a Centurion's Servant
When he entered Capernaum, a centurion came to him, appealing to him and saying, 'Lord, my
servant is lying at home paralysed, in terrible distress.' And he said to him, 'I will come and cure
him.' The centurion answered, 'Lord, I am not worthy to have you come under my roof; but only
speak the word, and my servant will be healed. For I also am a man under authority, with
soldiers under me; and I say to one, "Go", and he goes, and to another, "Come", and he comes,
and to my slave, "Do this", and the slave does it.' When Jesus heard him, he was amazed and
said to those who followed him, 'Truly I tell you, in no one in Israel have I found such faith. I tell
you, many will come from east and west and will eat with Abraham and Isaac and Jacob in the
kingdom of heaven, while the heirs of the kingdom will be thrown into the outer darkness, where
there will be weeping and gnashing of teeth.' And to the centurion Jesus said, 'Go; let it be done
for you according to your faith.' And the servant was healed in that hour.
Jesus Heals Many at Peter's House
When Jesus entered Peter's house, he saw his mother-in-law lying in bed with a fever; he
touched her hand, and the fever left her, and she got up and began to serve him. That evening
they brought to him many who were possessed by demons; and he cast out the spirits with a
word, and cured all who were sick. This was to fulfil what had been spoken through the prophet
Isaiah, 'He took our infirmities and bore our diseases.'
Prayer for today
Support us, O Lord, all the day long of this troublous life, until the shadows lengthen and the
evening comes, the busy world is hushed, the fever of life is over and our work is done. Then,
Lord, in your mercy grant us a safe lodging, a holy rest, and peace at the last; through Christ our
Lord. Amen.
Adapted from the 1928 Prayer Book