Bible Reading and Prayer
for Saturday 20th June 2020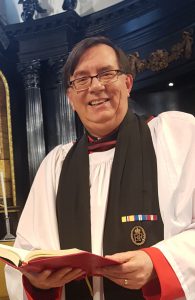 Welcome to our virtual morning Bible Reading & Prayer for today.


Good morning.


Our beautiful church remains closed for the time being, as we all play our part in fighting the invisible enemy of Covid 19.


As we continue to work from home, or on the front line with our brave key workers, I hope our daily prayers and readings from the Bible, bring you hope, some comfort and sustain you during this difficult time.


Our church remains empty, but together, in a virtual world, we give thanks to our Lord and pray for those whose lives have been touched during this time.
Blessings to you and your family.
David 
Bible Reading
Matthew 16.24-27
The Cross and Self-Denial
Then Jesus told his disciples, 'If any want to become my followers, let them deny themselves
and take up their cross and follow me. For those who want to save their life will lose it, and
those who lose their life for my sake will find it. For what will it profit them if they gain the whole
world but forfeit their life? Or what will they give in return for their life?
'For the Son of Man is to come with his angels in the glory of his Father, and then he will repay
everyone for what has been done.
Prayer for today
From the Gelasian Sacramentary (8th century)
O Holy Spirit, giver of light and life, impart to us thoughts better than our own thoughts, and
prayers better than our own prayers, and powers better than our own powers, that we may
spend and be spent in the ways of love and goodness, after the perfect image of our Lord and
Saviour Jesus Christ.