Bible Reading and Prayer
for Saturday 1st August 2020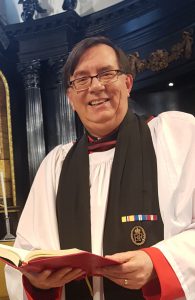 Welcome to our virtual morning Bible Reading & Prayer for today.


Good morning.


Our beautiful church remains closed for the time being, as we all play our part in fighting the invisible enemy of Covid 19.


As we continue to work from home, or on the front line with our brave key workers, I hope our daily prayers and readings from the Bible, bring you hope, some comfort and sustain you during this difficult time.


Our church remains empty, but together, in a virtual world, we give thanks to our Lord and pray for those whose lives have been touched during this time.
Blessings to you and your family.
David 
Bible Reading
Matthew 14.1-12
The Death of John the Baptist
At that time Herod the ruler heard reports about Jesus; and he said to his servants, 'This is John
the Baptist; he has been raised from the dead, and for this reason these powers are at work in
him.' For Herod had arrested John, bound him, and put him in prison on account of Herodias, his
brother Philip's wife, because John had been telling him, 'It is not lawful for you to have her.'
Though Herod wanted to put him to death, he feared the crowd, because they regarded him as a
prophet. But when Herod's birthday came, the daughter of Herodias danced before the company,
and she pleased Herod so much that he promised on oath to grant her whatever she might ask.
Prompted by her mother, she said, 'Give me the head of John the Baptist here on a platter.' The
king was grieved, yet out of regard for his oaths and for the guests, he commanded it to be given;
he sent and had John beheaded in the prison. The head was brought on a platter and given to the
girl, who brought it to her mother. His disciples came and took the body and buried it; then they
went and told Jesus.
Prayer for today
God of love, show us our place in this world
as channels of your love
for all the creatures of this earth,
for not one of them is forgotten in your sight.
Enlighten those who possess power and money
that they may avoid the sin of indifference,
that they may love the common good, advance the weak,
and care for this world in which we live.
The poor and the earth are crying out.
O Lord, seize us with your power and light,
help us to protect all life,
to prepare for a better future,
for the coming of your Kingdom
of justice, peace, love and beauty.
Praise be to you!
Amen.
'A Christian prayer for union with creation' was published in Pope Francis' encyclical, Laudato Si'.