Bible Reading and Prayer
for Saturday 19th September 2020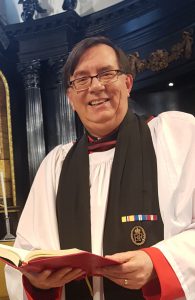 Welcome to our virtual morning Bible Reading & Prayer for today.


Our beautiful church is now open for private prayer and Sunday Services. To find out about event at the church please visit the Events Calendar.
As we continue to work from home, or on the front line with our brave key workers, I hope our daily prayers and readings from the Bible, bring you hope, some comfort and sustain you during this difficult time.
Blessings to you and your family.
David 
Bible Reading
Luke 8.4-15
The Parable of the Sower
When a great crowd gathered and people from town after town came to him, he said in a parable: 'A sower went out to sow his seed; and as he sowed, some fell on the path and was trampled on, and the birds of the air ate it up. Some fell on the rock; and as it grew up, it withered for lack of moisture. Some fell among thorns, and the thorns grew with it and choked it. Some fell into good soil, and when it grew, it produced a hundredfold.' As he said this, he called out, 'Let anyone with ears to hear listen!' 
Then his disciples asked him what this parable meant. He said, 'To you it has been given to know the secrets of the kingdom of God; but to others I speak in parables, so that
"looking they may not perceive,
   and listening they may not understand." 
'Now the parable is this: The seed is the word of God. The ones on the path are those who have heard; then the devil comes and takes away the word from their hearts, so that they may not believe and be saved. The ones on the rock are those who, when they hear the word, receive it with joy. But these have no root; they believe only for a while and in a time of testing fall away. As for what fell among the thorns, these are the ones who hear; but as they go on their way, they are choked by the cares and riches and pleasures of life, and their fruit does not mature. But as for that in the good soil, these are the ones who, when they hear the word, hold it fast in an honest and good heart, and bear fruit with patient endurance.
Prayer for today
Lord Jesus Christ, you are the way, the truth and the life: let us not stray from you who are the way, nor distrust your promises who are the truth, nor rest in anything but you who are the life, for beyond you there is nothing to be desired neither in heaven nor in earth. Amen.
from a prayer of Erasmus (1536)