Bible Reading and Prayer
for Saturday 18th July 2020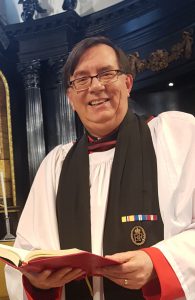 Welcome to our virtual morning Bible Reading & Prayer for today.


Good morning.


Our beautiful church remains closed for the time being, as we all play our part in fighting the invisible enemy of Covid 19.


As we continue to work from home, or on the front line with our brave key workers, I hope our daily prayers and readings from the Bible, bring you hope, some comfort and sustain you during this difficult time.


Our church remains empty, but together, in a virtual world, we give thanks to our Lord and pray for those whose lives have been touched during this time.
Blessings to you and your family.
David 
Bible Reading
Matthew 12.14-21
The Pharisees went out and conspired against him, how to destroy him.
God's Chosen Servant
When Jesus became aware of this, he departed. Many crowds followed him, and he cured all of
them, and he ordered them not to make him known. This was to fulfil what had been spoken
through the prophet Isaiah:
'Here is my servant, whom I have chosen,
   my beloved, with whom my soul is well pleased.
I will put my Spirit upon him,
   and he will proclaim justice to the Gentiles.
He will not wrangle or cry aloud,
   nor will anyone hear his voice in the streets.
He will not break a bruised reed
   or quench a smouldering wick
until he brings justice to victory.
   And in his name the Gentiles will hope.'
Prayer for today
Living God,
deliver us from a world without justice
and a future without mercy;
in your mercy, establish justice,
and in your justice, remember the mercy revealed to us in Jesus Christ our Lord.
Amen.