Bible Reading and Prayer
for Monday 7th September 2020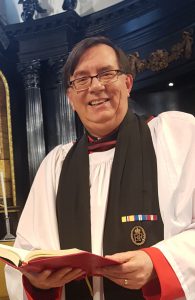 Welcome to our virtual morning Bible Reading & Prayer for today.


Good morning.


Our beautiful church remains closed for the time being, as we all play our part in fighting the invisible enemy of Covid 19.


As we continue to work from home, or on the front line with our brave key workers, I hope our daily prayers and readings from the Bible, bring you hope, some comfort and sustain you during this difficult time.


Our church remains empty, but together, in a virtual world, we give thanks to our Lord and pray for those whose lives have been touched during this time.
Blessings to you and your family.
David 
Bible Reading
Luke 6.6-11
The Man with a Withered Hand
On another sabbath he entered the synagogue and taught, and there was a man there whose right
hand was withered. The scribes and the Pharisees watched him to see whether he would cure on
the sabbath, so that they might find an accusation against him. Even though he knew what they
were thinking, he said to the man who had the withered hand, 'Come and stand here.' He got up
and stood there. Then Jesus said to them, 'I ask you, is it lawful to do good or to do harm on the
sabbath, to save life or to destroy it?' After looking around at all of them, he said to him, 'Stretch
out your hand.' He did so, and his hand was restored. But they were filled with fury and discussed
with one another what they might do to Jesus.
Prayer for today
Heavenly Father, in your Son Jesus Christ you have given us a true faith and a sure hope.
Strengthen this faith and hope in us all our days, that we may live as those who believe in the
communion of saints the forgiveness of sins and the resurrection to eternal life; through Jesus
Christ our Lord. Amen.
adapted from the 1928 Prayer Book