Bible Reading and Prayer
for Monday 6th July 2020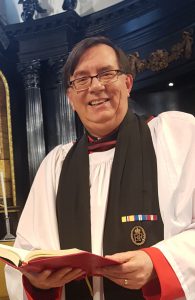 Welcome to our virtual morning Bible Reading & Prayer for today.


Good morning.


Our beautiful church remains closed for the time being, as we all play our part in fighting the invisible enemy of Covid 19.


As we continue to work from home, or on the front line with our brave key workers, I hope our daily prayers and readings from the Bible, bring you hope, some comfort and sustain you during this difficult time.


Our church remains empty, but together, in a virtual world, we give thanks to our Lord and pray for those whose lives have been touched during this time.
Blessings to you and your family.
David 
Bible Reading
Matthew 9.18-26
A Girl Restored to Life and a Woman Healed
While he was saying these things to them, suddenly a leader of the synagogue came in and knelt
before him, saying, 'My daughter has just died; but come and lay your hand on her, and she will
live.' And Jesus got up and followed him, with his disciples. Then suddenly a woman who had
been suffering from haemorrhages for twelve years came up behind him and touched the fringe of
his cloak, for she said to herself, 'If I only touch his cloak, I will be made well.' Jesus turned, and
seeing her he said, 'Take heart, daughter; your faith has made you well.' And instantly the woman
was made well. When Jesus came to the leader's house and saw the flute-players and the crowd
making a commotion, he said, 'Go away; for the girl is not dead but sleeping.' And they laughed at
him. But when the crowd had been put outside, he went in and took her by the hand, and the girl
got up. And the report of this spread throughout that district.
Prayer for today
O Lord our God,
source of all goodness and love,
accept the fervent prayers of your people;
in the multitude of your mercies look with compassion
upon all who turn to you for help;
for you are gracious, O lover of souls,
and to you we give glory, Father, Son, and Holy Spirit,
now and for ever.
Amen.