Bible Reading and Prayer
for Monday 3rd August 2020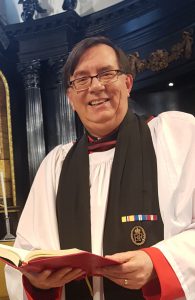 Welcome to our virtual morning Bible Reading & Prayer for today.


Good morning.


Our beautiful church remains closed for the time being, as we all play our part in fighting the invisible enemy of Covid 19.


As we continue to work from home, or on the front line with our brave key workers, I hope our daily prayers and readings from the Bible, bring you hope, some comfort and sustain you during this difficult time.


Our church remains empty, but together, in a virtual world, we give thanks to our Lord and pray for those whose lives have been touched during this time.
Blessings to you and your family.
David 
Bible Reading
Matthew 14.22-end
Jesus Walks on the Water
Immediately he made the disciples get into the boat and go on ahead to the other side, while he
dismissed the crowds. And after he had dismissed the crowds, he went up the mountain by
himself to pray. When evening came, he was there alone, but by this time the boat, battered by
the waves, was far from the land, for the wind was against them. And early in the morning he
came walking towards them on the lake. But when the disciples saw him walking on the lake,
they were terrified, saying, 'It is a ghost!' And they cried out in fear. But immediately Jesus
spoke to them and said, 'Take heart, it is I; do not be afraid.'
Peter answered him, 'Lord, if it is you, command me to come to you on the water.' He said,
'Come.' So Peter got out of the boat, started walking on the water, and came towards Jesus.
But when he noticed the strong wind, he became frightened, and beginning to sink, he cried out,
'Lord, save me!' Jesus immediately reached out his hand and caught him, saying to him, 'You of
little faith, why did you doubt?' When they got into the boat, the wind ceased. And those in the
boat worshipped him, saying, 'Truly you are the Son of God.'
When they had crossed over, they came to land at Gennesaret. After the people of that place
recognized him, they sent word throughout the region and brought all who were sick to him, and
begged him that they might touch even the fringe of his cloak; and all who touched it were
healed.
Prayer for today
Almighty and everlasting God, we thank you that you have brought us safely to the beginning of
this day. Keep us from falling into sin or running into danger, order us in all our doings and guide
us to do always what is righteous in your sight; through Jesus Christ our Lord. Amen.
adapted from The Book of Common Prayer