Bible Reading and Prayer
for Monday 31st August 2020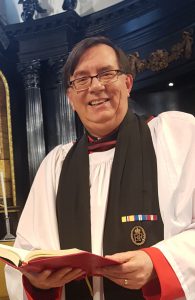 Welcome to our virtual morning Bible Reading & Prayer for today.


Good morning.


Our beautiful church remains closed for the time being, as we all play our part in fighting the invisible enemy of Covid 19.


As we continue to work from home, or on the front line with our brave key workers, I hope our daily prayers and readings from the Bible, bring you hope, some comfort and sustain you during this difficult time.


Our church remains empty, but together, in a virtual world, we give thanks to our Lord and pray for those whose lives have been touched during this time.
Blessings to you and your family.
David 
Bible Reading
Aidan, Bishop of Lindisfarne, Missionary, 651
1 Corinthians 9.16-19
If I proclaim the gospel, this gives me no ground for boasting, for an obligation is laid on me, and
woe betide me if I do not proclaim the gospel! For if I do this of my own will, I have a reward; but
if not of my own will, I am entrusted with a commission. What then is my reward? Just this: that
in my proclamation I may make the gospel free of charge, so as not to make full use of my rights
in the gospel.
For though I am free with respect to all, I have made myself a slave to all, so that I might win
more of them.
Prayer for today
Everlasting God, you sent the gentle bishop Aidan to proclaim the gospel in this land: grant us
to live as he taught in simplicity, humility and love for the poor; through Jesus Christ your Son
our Lord, who is alive and reigns with you, in the unity of the Holy Spirit, one God, now and for
ever. Amen