Bible Reading and Prayer
for Monday 24th August 2020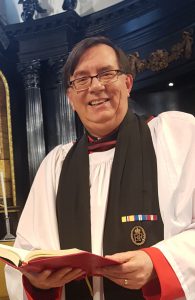 Welcome to our virtual morning Bible Reading & Prayer for today.


Good morning.


Our beautiful church remains closed for the time being, as we all play our part in fighting the invisible enemy of Covid 19.


As we continue to work from home, or on the front line with our brave key workers, I hope our daily prayers and readings from the Bible, bring you hope, some comfort and sustain you during this difficult time.


Our church remains empty, but together, in a virtual world, we give thanks to our Lord and pray for those whose lives have been touched during this time.
Blessings to you and your family.
David 
Bible Reading
St Bartholomew the Apostle
1 Corinthians 4.9-15
For I think that God has exhibited us apostles as last of all, as though sentenced to death,
because we have become a spectacle to the world, to angels and to mortals. We are fools for
the sake of Christ, but you are wise in Christ. We are weak, but you are strong. You are held in
honour, but we in disrepute. To the present hour we are hungry and thirsty, we are poorly
clothed and beaten and homeless, and we grow weary from the work of our own hands. When
reviled, we bless; when persecuted, we endure; when slandered, we speak kindly. We have
become like the rubbish of the world, the dregs of all things, to this very day.
Fatherly Admonition
I am not writing this to make you ashamed, but to admonish you as my beloved children. For
though you might have ten thousand guardians in Christ, you do not have many fathers. Indeed,
in Christ Jesus I became your father through the gospel.
Prayer for today
Almighty and everlasting God, who gave to your apostle Bartholomew grace truly to believe and
to preach your word: grant that your Church may love that word which he believed and may
faithfully preach and receive the same; through Jesus Christ your Son our Lord, who is alive and
reigns with you, in the unity of the Holy Spirit, one God, now and for ever. Amen.