Bible Reading and Prayer
for Monday 22nd June 2020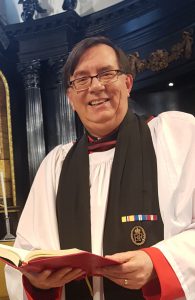 Welcome to our virtual morning Bible Reading & Prayer for today.


Good morning.


Our beautiful church remains closed for the time being, as we all play our part in fighting the invisible enemy of Covid 19.


As we continue to work from home, or on the front line with our brave key workers, I hope our daily prayers and readings from the Bible, bring you hope, some comfort and sustain you during this difficult time.


Our church remains empty, but together, in a virtual world, we give thanks to our Lord and pray for those whose lives have been touched during this time.
Blessings to you and your family.
David 
Bible Reading
Alban, First Martyr of Britain c250
Reading
2 Timothy 2.3-13
Share in suffering like a good soldier of Christ Jesus. No one serving in the army gets entangled
in everyday affairs; the soldier's aim is to please the enlisting officer. And in the case of an
athlete, no one is crowned without competing according to the rules. It is the farmer who does
the work who ought to have the first share of the crops. Think over what I say, for the Lord will
give you understanding in all things.
Remember Jesus Christ, raised from the dead, a descendant of David—that is my gospel, for
which I suffer hardship, even to the point of being chained like a criminal. But the word of God is
not chained. Therefore I endure everything for the sake of the elect, so that they may also
obtain the salvation that is in Christ Jesus, with eternal glory. The saying is sure:
If we have died with him, we will also live with him;
if we endure, we will also reign with him;
if we deny him, he will also deny us;
if we are faithless, he remains faithful—
for he cannot deny himself.
Prayer for today St Alban
Eternal Father, when the gospel of Christ first came to our land you gloriously confirmed the
faith of Alban by making him the first to win a martyr's crown, grant that following his example in
the fellowship of the saints we may worship you the living God and give true witness to Jesus
Christ our Lord. Amen.