Bible Reading and Prayer
for Monday 14th September 2020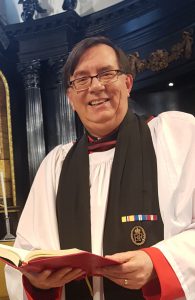 Welcome to our virtual morning Bible Reading & Prayer for today.


Our beautiful church is now open for private prayer and Sunday Services. To find out about event at the church please visit the Events Calendar.
As we continue to work from home, or on the front line with our brave key workers, I hope our daily prayers and readings from the Bible, bring you hope, some comfort and sustain you during this difficult time.
Blessings to you and your family.
David 
Bible Reading
John 3.13-17
No one has ascended into heaven except the one who descended from heaven, the Son of Man.
And just as Moses lifted up the serpent in the wilderness, so must the Son of Man be lifted up, that
whoever believes in him may have eternal life.
'For God so loved the world that he gave his only Son, so that everyone who believes in him may
not perish but may have eternal life.
'Indeed, God did not send the Son into the world to condemn the world, but in order that the world
might be saved through him.
Prayer for today
Holy Cross Day
Almighty God,
who in the passion of your blessed Son
made an instrument of painful death
to be for us the means of life and peace:
grant us so to glory in the cross of Christ
that we may gladly suffer for his sake;
who is alive and reigns with you,
in the unity of the Holy Spirit,
one God, now and for ever. Amen