Bible Reading and Prayer
for Friday 28th August 2020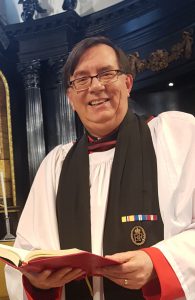 Welcome to our virtual morning Bible Reading & Prayer for today.


Good morning.


Our beautiful church remains closed for the time being, as we all play our part in fighting the invisible enemy of Covid 19.


As we continue to work from home, or on the front line with our brave key workers, I hope our daily prayers and readings from the Bible, bring you hope, some comfort and sustain you during this difficult time.


Our church remains empty, but together, in a virtual world, we give thanks to our Lord and pray for those whose lives have been touched during this time.
Blessings to you and your family.
David 
Bible Reading
Augustine, Bishop of Hippo, Teacher of the Faith, 430
Ecclesiasticus 39.1-10
He seeks out the wisdom of all the ancients,
and is concerned with prophecies;
he preserves the sayings of the famous
and penetrates the subtleties of parables;
he seeks out the hidden meanings of proverbs
and is at home with the obscurities of parables.
He serves among the great
and appears before rulers;
he travels in foreign lands
and learns what is good and evil in the human lot.
He sets his heart on rising early
to seek the Lord who made him,
and to petition the Most High;
he opens his mouth in prayer
and asks pardon for his sins.
If the great Lord is willing,
he will be filled with the spirit of understanding;
he will pour forth words of wisdom of his own
and give thanks to the Lord in prayer.
The Lord will direct his counsel and knowledge,
as he meditates on his mysteries.
He will show the wisdom of what he has learned,
and will glory in the law of the Lord's covenant.
Many will praise his understanding;
it will never be blotted out.
His memory will not disappear,
and his name will live through all generations.
Nations will speak of his wisdom,
and the congregation will proclaim his praise.
Prayer for today, St Augustine of Hippo

Merciful Lord, who turned Augustine from his sins to be a faithful bishop and teacher: grant that
we may follow him in penitence and discipline till our restless hearts find their rest in you;
through Jesus Christ your Son our Lord, who is alive and reigns with you, in the unity of the Holy
Spirit,one God, now and for ever. Amen