Bible Reading and Prayer
for Friday 19th June 2020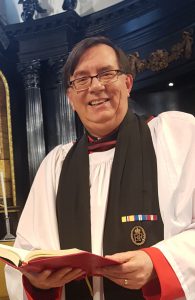 Welcome to our virtual morning Bible Reading & Prayer for today.


Good morning.


Our beautiful church remains closed for the time being, as we all play our part in fighting the invisible enemy of Covid 19.


As we continue to work from home, or on the front line with our brave key workers, I hope our daily prayers and readings from the Bible, bring you hope, some comfort and sustain you during this difficult time.


Our church remains empty, but together, in a virtual world, we give thanks to our Lord and pray for those whose lives have been touched during this time.
Blessings to you and your family.
David 
Bible Reading
Matthew 6.19-23
Concerning Treasures
'Do not store up for yourselves treasures on earth, where moth and rust consume and where
thieves break in and steal; but store up for yourselves treasures in heaven, where neither moth
nor rust consumes and where thieves do not break in and steal. For where your treasure is, there your heart will be also.
The Sound Eye
'The eye is the lamp of the body. So, if your eye is healthy, your whole body will be full of light;
but if your eye is unhealthy, your whole body will be full of darkness. If then the light in you is
darkness, how great is the darkness!
Prayer for today
Francis of Assisi (1226)
O God of unchangeable power and eternal light, look favourably on your whole Church, that
wonderful and sacred mystery, and by the tranquil operation of your perpetual providence carry
out the work of our salvation: and let the whole world feel and see that things which were cast
down are being raised up and things which had grown old are being made new and that all
things are returning to perfection through him from whom they took their origin, even Jesus
Christ our Lord. Amen