Bible Reading and Prayer
for Friday 18th September 2020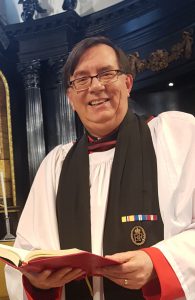 Welcome to our virtual morning Bible Reading & Prayer for today.


Our beautiful church is now open for private prayer and Sunday Services. To find out about event at the church please visit the Events Calendar.
As we continue to work from home, or on the front line with our brave key workers, I hope our daily prayers and readings from the Bible, bring you hope, some comfort and sustain you during this difficult time.
Blessings to you and your family.
David 
Bible Reading
Luke 8.1-3
Some Women Accompany Jesus
Soon afterwards he went on through cities and villages, proclaiming and bringing the good news of the kingdom of God. The twelve were with him, as well as some women who had been cured of evil spirits and infirmities: Mary, called Magdalene, from whom seven demons had gone out, and Joanna, the wife of Herod's steward Chuza, and Susanna, and many others, who provided for them out of their resources.
Prayer for today
Lord, make me an instrument of your peace.
Where there is hatred, let me sow love; where there is injury, pardon;
where there is doubt, faith; where there is despair, hope;
where there is darkness, light; where there is sadness, joy.
O Divine Master, grant that I may not so much seek to be consoled as to console, to be understood as to understand, to be loved as to love.
For it is in giving that we receive, it is in pardoning that we are pardoned, and it is in dying that we are born to eternal life. Amen.
a Franciscan prayer