Bible Reading and Prayer
for Friday 14th August 2020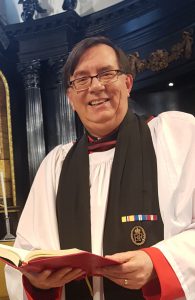 Welcome to our virtual morning Bible Reading & Prayer for today.


Good morning.


Our beautiful church remains closed for the time being, as we all play our part in fighting the invisible enemy of Covid 19.


As we continue to work from home, or on the front line with our brave key workers, I hope our daily prayers and readings from the Bible, bring you hope, some comfort and sustain you during this difficult time.


Our church remains empty, but together, in a virtual world, we give thanks to our Lord and pray for those whose lives have been touched during this time.
Blessings to you and your family.
David 
Bible Reading
Acts 2.37-end
The First Converts
Now when they heard this, they were cut to the heart and said to Peter and to the other
apostles, 'Brothers, what should we do?' Peter said to them, 'Repent, and be baptized every
one of you in the name of Jesus Christ so that your sins may be forgiven; and you will receive
the gift of the Holy Spirit. For the promise is for you, for your children, and for all who are far
away, everyone whom the Lord our God calls to him.' And he testified with many other
arguments and exhorted them, saying, 'Save yourselves from this corrupt generation.' So those
who welcomed his message were baptized, and that day about three thousand persons were
added. They devoted themselves to the apostles' teaching and fellowship, to the breaking of
bread and the prayers.
Awe came upon everyone, because many wonders and signs were being done by the apostles.
All who believed were together and had all things in common; they would sell their possessions
and goods and distribute the proceeds to all, as any had need. Day by day, as they spent much
time together in the temple, they broke bread at home and ate their food with glad and generous
hearts, praising God and having the goodwill of all the people. And day by day the Lord added
to their number those who were being saved.
Prayer for today
Heavenly Father, in your Son Jesus Christ you have given us a true faith and a sure hope.
Strengthen this faith and hope in us all our days, that we may live as those who believe in the
communion of saints the forgiveness of sins and the resurrection to eternal life; through Jesus
Christ our Lord. Amen.
adapted from the 1928 Prayer Book