Bible Reading and Prayer
for Wednesday 6th May 2020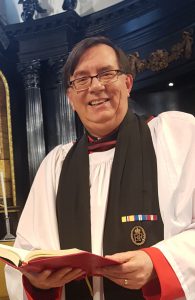 Welcome to our virtual morning Bible Reading & Prayer for today. 
During this time when we spend our time in isolation at home;
Whether working alone, with family and loved ones, or continuing as normal if you are a key worker, or supporting our NHS as many within the RAF Family are doing.
I thought I would try and share a Bible reading and a prayer at the start of each weekday morning, during this difficult time.
I hope you may find comfort in the words.
Blessing to you and your family
David Osborn.
Bible Reading
St John the Evangelist ante portam Latinam (Book of Common Prayer)
John Chapter 12 verses 44 to the end
Then Jesus cried aloud: 'Whoever believes in me believes not in me but in him who sent me.
And whoever sees me sees him who sent me. I have come as light into the world, so that
everyone who believes in me should not remain in the darkness. I do not judge anyone who
hears my words and does not keep them, for I came not to judge the world, but to save the
world. The one who rejects me and does not receive my word has a judge; on the last day the
word that I have spoken will serve as judge, for I have not spoken on my own, but the Father
who sent me has himself given me a commandment about what to say and what to speak. And I
know that his commandment is eternal life. What I speak, therefore, I speak just as the Father
has told me.'
Prayer for today
Merciful Lord, we beseech thee to cast thy bright beams of light upon thy Church, that it being
enlightened by the doctrine of thy blessed Apostle and Evangelist Saint John may so walk in the
light of thy truth, that it may at length attain to the light of everlasting life, through Jesus Christ
our lord: Amen