Bible Reading and Prayer
for Tuesday 26th May 2020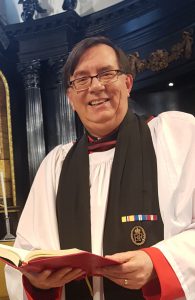 Welcome to our virtual morning Bible Reading & Prayer for today. 
Good morning.


Our beautiful church remains closed for the time being, as we all play our part in fighting the invisible enemy of Covid 19.


As we continue to work from home, or on the front line with our brave key workers, I hope our daily prayers and readings from the Bible, bring you hope, some comfort and sustain you during this difficult time.


Our church remains empty, but together, in a virtual world, we give thanks to our Lord and pray for those whose lives have been touched during this time.
Blessings to you and your family.
David 
Bible Reading
1 Thessalonians 2 verses 2-8
But though we had already suffered and been shamefully maltreated at Philippi, as you know, we
had courage in our God to declare to you the gospel of God in spite of great opposition. For our
appeal does not spring from deceit or impure motives or trickery, but just as we have been
approved by God to be entrusted with the message of the gospel, even so we speak, not to please
mortals, but to please God who tests our hearts. As you know and as God is our witness, we
never came with words of flattery or with a pretext for greed; nor did we seek praise from mortals,
whether from you or from others, though we might have made demands as apostles of Christ. But
we were gentle among you, like a nurse tenderly caring for her own children. So deeply do we
care for you that we are determined to share with you not only the gospel of God but also our own
selves, because you have become very dear to us.
Prayer for today
St Augustine's Day
Almighty God, whose servant Augustine was sent as the apostle of the English people, grant that
as he laboured in the Spirit to preach Christ's gospel in this land so all who hear the good news
may strive to make your truth known in all the world, through Jesus Christ, your Son our Lord.
Amen.