Bible Reading and Prayer
for Thursday 4th June 2020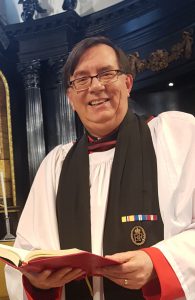 Welcome to our virtual morning Bible Reading & Prayer for today.

Good morning.


Our beautiful church remains closed for the time being, as we all play our part in fighting the invisible enemy of Covid 19.


As we continue to work from home, or on the front line with our brave key workers, I hope our daily prayers and readings from the Bible, bring you hope, some comfort and sustain you during this difficult time.


Our church remains empty, but together, in a virtual world, we give thanks to our Lord and pray for those whose lives have been touched during this time.
Blessings to you and your family.
David 
Bible Reading
Mark 12.28-34
The First Commandment
One of the scribes came near and heard them disputing with one another, and seeing that he
answered them well, he asked him, 'Which commandment is the first of all?' Jesus answered,
'The first is, "Hear, O Israel: the Lord our God, the Lord is one; you shall love the Lord your God
with all your heart, and with all your soul, and with all your mind, and with all your strength." The
second is this, "You shall love your neighbour as yourself." There is no other commandment
greater than these.' Then the scribe said to him, 'You are right, Teacher; you have truly said that
"he is one, and besides him there is no other"; and "to love him with all the heart, and with all the
understanding, and with all the strength", and "to love one's neighbour as oneself",—this is
much more important than all whole burnt-offerings and sacrifices.' When Jesus saw that he
answered wisely, he said to him, 'You are not far from the kingdom of God.' After that no one
dared to ask him any question.
Prayer for today
O Lord, you have given us your word for a light to shine upon our path. Grant us so to meditate
on that word, and to follow its teaching, that we may find in it the light that shines more and
more until the perfect day; through Jesus Christ our Lord. Amen.