Bible Reading and Prayer
for Thursday 11th June 2020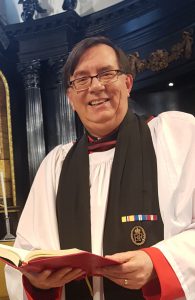 Welcome to our virtual morning Bible Reading & Prayer for today.
Day of thanksgiving for the institution of Holy Communion (Corpus Christi)

Good morning.


Our beautiful church remains closed for the time being, as we all play our part in fighting the invisible enemy of Covid 19.


As we continue to work from home, or on the front line with our brave key workers, I hope our daily prayers and readings from the Bible, bring you hope, some comfort and sustain you during this difficult time.


Our church remains empty, but together, in a virtual world, we give thanks to our Lord and pray for those whose lives have been touched during this time.
Blessings to you and your family.
David 
Bible Reading
1 Corinthians 11.23-26
The Institution of the Lord's Supper
For I received from the Lord what I also handed on to you, that the Lord Jesus on the night
when he was betrayed took a loaf of bread, and when he had given thanks, he broke it and said,
'This is my body that is for you. Do this in remembrance of me.' In the same way he took the
cup also, after supper, saying, 'This cup is the new covenant in my blood. Do this, as often as
you drink it, in remembrance of me.' For as often as you eat this bread and drink the cup, you
proclaim the Lord's death until he comes.
Prayer for today-Corpus Christi
Lord Jesus Christ, we thank you that in this wonderful sacrament you have given us the
memorial of your passion: grant us so to reverence the sacred mysteries of your body and blood
that we may know within ourselves and show forth in our lives the fruits of your redemption; for
you are alive and reign with the Father in the unity of the Holy Spirit, one God, now and for ever.
Amen