Bible Reading and Prayer
for Saturday 13th June 2020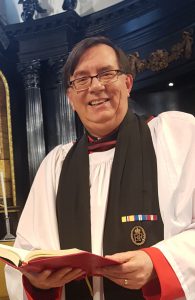 Welcome to our virtual morning Bible Reading & Prayer for today.


Good morning.


Our beautiful church remains closed for the time being, as we all play our part in fighting the invisible enemy of Covid 19.


As we continue to work from home, or on the front line with our brave key workers, I hope our daily prayers and readings from the Bible, bring you hope, some comfort and sustain you during this difficult time.


Our church remains empty, but together, in a virtual world, we give thanks to our Lord and pray for those whose lives have been touched during this time.
Blessings to you and your family.
David 
Bible Reading
Romans 6.15-end
Slaves of Righteousness
What then? Should we sin because we are not under law but under grace? By no means! Do
you not know that if you present yourselves to anyone as obedient slaves, you are slaves of the
one whom you obey, either of sin, which leads to death, or of obedience, which leads to
righteousness? But thanks be to God that you, having once been slaves of sin, have become
obedient from the heart to the form of teaching to which you were entrusted, and that you,
having been set free from sin, have become slaves of righteousness. I am speaking in human
terms because of your natural limitations. For just as you once presented your members as
slaves to impurity and to greater and greater iniquity, so now present your members as slaves
to righteousness for sanctification.
When you were slaves of sin, you were free in regard to righteousness. So what advantage did
you then get from the things of which you now are ashamed? The end of those things is death.
But now that you have been freed from sin and enslaved to God, the advantage you get is
sanctification. The end is eternal life. For the wages of sin is death, but the free gift of God is
eternal life in Christ Jesus our Lord.
Prayer for today
Keep us, good Lord,
under the shadow of your mercy.
Sustain and support the anxious,
be with those who care for the sick,
and lift up all who are brought low;
that we may find comfort
knowing that nothing can separate us from your love
in Christ Jesus our Lord.
Amen.