Bible Reading and Prayer
for Monday 27th April 2020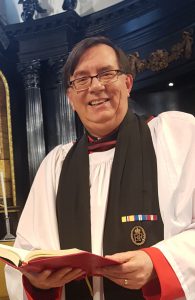 Welcome to our virtual morning Bible Reading & Prayer for today.
During this time when we spend our time in isolation at home;
Whether working alone, with family and loved ones, or continuing as normal if you are a key worker, or supporting our NHS as many within the RAF Family are doing.
I thought I would try and share a Bible reading and a prayer at the start of each weekday morning, during this difficult time.
I hope you may find comfort in the words.
Blessing to you and your family
David Osborn.
Bible Reading
Acts 6 verses 8 to 15
Stephen, full of grace and power, did great wonders and signs among the people. Then some of those who belonged to the synagogue of the Freedmen (as it was called), Cyrenians, Alexandrians, and others of those from Cilicia and Asia, stood up and argued with Stephen. But they could not withstand the wisdom and the Spirit with which he spoke. Then they secretly instigated some men to say, 'We have heard him speak blasphemous words against Moses and God.' They stirred up the people as well as the elders and the scribes; then they suddenly confronted him, seized him, and brought him before the council. They set up false witnesses who said, 'This man never stops saying things against this holy place and the law; for we have heard him say that this Jesus of Nazareth will destroy this place and will change the customs that Moses handed on to us.' And all who sat in the council looked intently at him, and they saw that his face was like the face of an angel.
Prayer for today
Almighty Father,
who in your great mercy gladdened the disciples
with the sight of the risen Lord:
give us such knowledge of his presence with us,
that we may be strengthened and sustained by his risen life
and serve you continually in righteousness and truth;
through Jesus Christ your Son our Lord,
who is alive and reigns with you,
in the unity of the Holy Spirit,
one God, now and for ever. Amen