Bible Reading and Prayer
for Monday 25th May 2020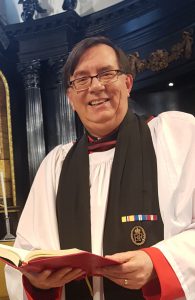 Welcome to our virtual morning Bible Reading & Prayer for today. 
Good morning.


Our beautiful church remains closed for the time being, as we all play our part in fighting the invisible enemy of Covid 19.


As we continue to work from home, or on the front line with our brave key workers, I hope our daily prayers and readings from the Bible, bring you hope, some comfort and sustain you during this difficult time.


Our church remains empty, but together, in a virtual world, we give thanks to our Lord and pray for those whose lives have been touched during this time.
Blessings to you and your family.
David 
Bible Reading
John 7 verses 14 to 18
About the middle of the festival Jesus went up into the temple and began to teach. The Jews were
astonished at it, saying, 'How does this man have such learning, when he has never been taught?'
Then Jesus answered them, 'My teaching is not mine but his who sent me. Anyone who resolves
to do the will of God will know whether the teaching is from God or whether I am speaking on my
own. Those who speak on their own seek their own glory; but the one who seeks the glory of him
who sent him is true, and there is nothing false in him.
Prayer for today
St Bede's day
God our maker whose Son Jesus Christ gave to your servant Bede grace to drink in with joy the
word that leads us to know you and to love you; in your goodness grant that we also may come at
length to you the source of all wisdom, and stand before your face; through Jesus Christ our Lord.
Amen