Bible Reading and Prayer
for Monday 1st June 2020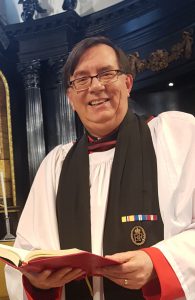 Welcome to our virtual morning Bible Reading & Prayer for today.
The visit of the Blessed Virgin Mary to Elizabeth
Good morning.


Our beautiful church remains closed for the time being, as we all play our part in fighting the invisible enemy of Covid 19.


As we continue to work from home, or on the front line with our brave key workers, I hope our daily prayers and readings from the Bible, bring you hope, some comfort and sustain you during this difficult time.


Our church remains empty, but together, in a virtual world, we give thanks to our Lord and pray for those whose lives have been touched during this time.
Blessings to you and your family.
David 
Bible Reading
Luke 1.39-49
Mary Visits Elizabeth
In those days Mary set out and went with haste to a Judean town in the hill country, where she
entered the house of Zechariah and greeted Elizabeth. When Elizabeth heard Mary's greeting,
the child leapt in her womb. And Elizabeth was filled with the Holy Spirit and exclaimed with a
loud cry, 'Blessed are you among women, and blessed is the fruit of your womb. And why has
this happened to me, that the mother of my Lord comes to me? For as soon as I heard the
sound of your greeting, the child in my womb leapt for joy. And blessed is she who believed that
there would be a fulfilment of what was spoken to her by the Lord.'
And Mary said,
'My soul magnifies the Lord,
and my spirit rejoices in God my Saviour,
for he has looked with favour on the lowliness of his servant.
Surely, from now on all generations will call me blessed;
for the Mighty One has done great things for me,
and holy is his name.
Prayer for today
Mighty God by whose grace Elizabeth rejoiced with Mary and greeted her as the mother of the
Lord, look with favour on your lowly servants that, with Mary we may magnify your holy name
and rejoice to acclaim her Son our Saviour, who is alive and reigns with you in the unity of the
Holy Spirit, one God now and for ever. Amen