Bible Reading and Prayer
for Monday 18th May 2020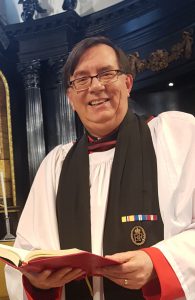 Welcome to our virtual morning Bible Reading & Prayer for today. 
Good morning.


Our beautiful church remains closed for the time being, as we all play our part in fighting the invisible enemy of Covid 19.


As we continue to work from home, or on the front line with our brave key workers, I hope our daily prayers and readings from the Bible, bring you hope, some comfort and sustain you during this difficult time.


Our church remains empty, but together, in a virtual world, we give thanks to our Lord and pray for those whose lives have been touched during this time.
Blessings to you and your family.
David 
Bible Reading: Rogation Day
Psalm 107 verses 1 to 9
O give thanks to the Lord, for he is good;
   for his steadfast love endures for ever.
Let the redeemed of the Lord say so,
   those he redeemed from trouble
and gathered in from the lands,
   from the east and from the west,
   from the north and from the south.
Some wandered in desert wastes,
   finding no way to an inhabited town;
hungry and thirsty,
   their soul fainted within them.
Then they cried to the Lord in their trouble,
   and he delivered them from their distress;
he led them by a straight way,
   until they reached an inhabited town.
Let them thank the Lord for his steadfast love,
   for his wonderful works to humankind.
For he satisfies the thirsty,
   and the hungry he fills with good things.
Prayer for today
Almighty God whose will it is that the earth and the sea should bear fruit in due season, bless the
labours of those who work on the land and sea, grant us a good harvest and the grace always to
rejoice in your fatherly care, through Jesus Christ your Son our Lord. Amen.