Bible Reading and Prayer
for Friday 5th June 2020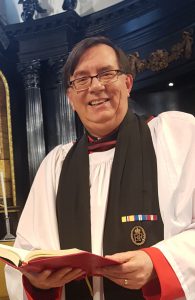 Welcome to our virtual morning Bible Reading & Prayer for today.
St Boniface

Good morning.


Our beautiful church remains closed for the time being, as we all play our part in fighting the invisible enemy of Covid 19.


As we continue to work from home, or on the front line with our brave key workers, I hope our daily prayers and readings from the Bible, bring you hope, some comfort and sustain you during this difficult time.


Our church remains empty, but together, in a virtual world, we give thanks to our Lord and pray for those whose lives have been touched during this time.
Blessings to you and your family.
David 
Bible Reading
Acts 20.24-28
But I do not count my life of any value to myself, if only I may finish my course and the ministry
that I received from the Lord Jesus, to testify to the good news of God's grace.
'And now I know that none of you, among whom I have gone about proclaiming the kingdom,
will ever see my face again. Therefore I declare to you this day that I am not responsible for the
blood of any of you, for I did not shrink from declaring to you the whole purpose of God. Keep
watch over yourselves and over all the flock, of which the Holy Spirit has made you overseers,
to shepherd the church of God that he obtained with the blood of his own Son.
Prayer for today
God our redeemer who called your servant Boniface to preach the gospel among the German
people and to build up your church in holiness grant that we may preserve in our hearts the faith
which he taught with his words and sealed with his blood and profess it in lives dedicated to
your Son, Jesus Christ our Lord. Amen