Bible Reading and Prayer
for Friday 22nd May 2020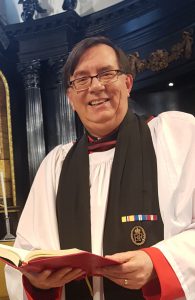 Welcome to our virtual morning Bible Reading & Prayer for today. 
Good morning.


Our beautiful church remains closed for the time being, as we all play our part in fighting the invisible enemy of Covid 19.


As we continue to work from home, or on the front line with our brave key workers, I hope our daily prayers and readings from the Bible, bring you hope, some comfort and sustain you during this difficult time.


Our church remains empty, but together, in a virtual world, we give thanks to our Lord and pray for those whose lives have been touched during this time.
Blessings to you and your family.
David 
Bible Reading
1 John 2 verses 1 to 6
My little children, I am writing these things to you so that you may not sin. But if anyone does sin, we have an advocate with the Father, Jesus Christ the righteous; and he is the atoning sacrifice for our sins, and not for ours only but also for the sins of the whole world. 
Now by this we may be sure that we know him, if we obey his commandments. Whoever says, 'I have come to know him', but does not obey his commandments, is a liar, and in such a person the truth does not exist; but whoever obeys his word, truly in this person the love of God has reached perfection. By this we may be sure that we are in him: whoever says, 'I abide in him', ought to walk just as he walked.
Prayer for today
Holy Spirit, sent by the Father, ignite in us your holy fire; strengthen your children with the gift of faith, revive your church with the breath of love and renew the face of the earth, through Jesus Christ our Lord. Amen.