Bible Reading and Prayer
for Friday 1st May 2020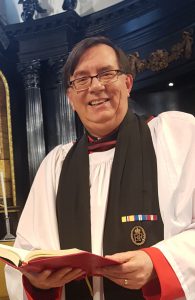 Welcome to our virtual morning Bible Reading & Prayer for today. This St Philip and St James's Day.
During this time when we spend our time in isolation at home;
Whether working alone, with family and loved ones, or continuing as normal if you are a key worker, or supporting our NHS as many within the RAF Family are doing.
I thought I would try and share a Bible reading and a prayer at the start of each weekday morning, during this difficult time.
I hope you may find comfort in the words.
Blessing to you and your family
David Osborn.
Bible Reading
This is the reason that I Paul am a prisoner for Christ Jesus for the sake of you Gentiles— for surely you have already heard of the commission of God's grace that was given to me for you, and how the mystery was made known to me by revelation, as I wrote above in a few words, a reading of which will enable you to perceive my understanding of the mystery of Christ. In former generations this mystery was not made known to humankind, as it has now been revealed to his holy apostles and prophets by the Spirit: that is, the Gentiles have become fellow-heirs, members of the same body, and sharers in the promise in Christ Jesus through the gospel. 
Of this gospel I have become a servant according to the gift of God's grace that was given to me by the working of his power. Although I am the very least of all the saints, this grace was given to me to bring to the Gentiles the news of the boundless riches of Christ, and to make everyone see what is the plan of the mystery hidden for ages in God who created all things; so that through the church the wisdom of God in its rich variety might now be made known to the rulers and authorities in the heavenly places.
Prayer for St Philip and St James's Day
Almighty God whom truly to know is eternal life, teach us to know your Son Jesus Christ as the way, the truth and the life; that we may follow the steps of your holy apostles Philip and James, and walk stedfastly in the way that leads to your glory, through Jesus Christ, your Son, our Lord. Amen.