Bible Reading and Prayer
for Friday 12th June 2020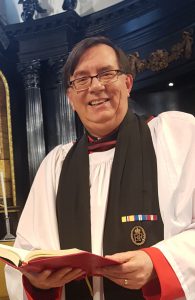 Welcome to our virtual morning Bible Reading & Prayer for today.
Barnabas the Apostle

Good morning.


Our beautiful church remains closed for the time being, as we all play our part in fighting the invisible enemy of Covid 19.


As we continue to work from home, or on the front line with our brave key workers, I hope our daily prayers and readings from the Bible, bring you hope, some comfort and sustain you during this difficult time.


Our church remains empty, but together, in a virtual world, we give thanks to our Lord and pray for those whose lives have been touched during this time.
Blessings to you and your family.
David 
Bible Reading
Acts 11.19-end
The Church in Antioch
Now those who were scattered because of the persecution that took place over Stephen
travelled as far as Phoenicia, Cyprus, and Antioch, and they spoke the word to no one except
Jews. But among them were some men of Cyprus and Cyrene who, on coming to Antioch,
spoke to the Hellenists also, proclaiming the Lord Jesus. The hand of the Lord was with them,
and a great number became believers and turned to the Lord. News of this came to the ears of
the church in Jerusalem, and they sent Barnabas to Antioch. When he came and saw the grace
of God, he rejoiced, and he exhorted them all to remain faithful to the Lord with steadfast
devotion; for he was a good man, full of the Holy Spirit and of faith. And a great many people
were brought to the Lord. Then Barnabas went to Tarsus to look for Saul, and when he had
found him, he brought him to Antioch. So it was that for an entire year they associated with the
church and taught a great many people, and it was in Antioch that the disciples were first called
'Christians'.
At that time prophets came down from Jerusalem to Antioch. One of them named Agabus stood
up and predicted by the Spirit that there would be a severe famine over all the world; and this
took place during the reign of Claudius. The disciples determined that according to their ability,
each would send relief to the believers living in Judea; this they did, sending it to the elders by
Barnabas and Saul.
Prayer for today– St Barnabas
Bountiful God, giver of all gifts, who poured your Spirit upon your servant Barnabas and gave
him grace to encourage others: help us, by his example, to be generous in our judgements and
unselfish in our service; through Jesus Christ your Son our Lord, who is alive and reigns with
you, in the unity of the Holy Spirit, one God, now and for ever. Amen