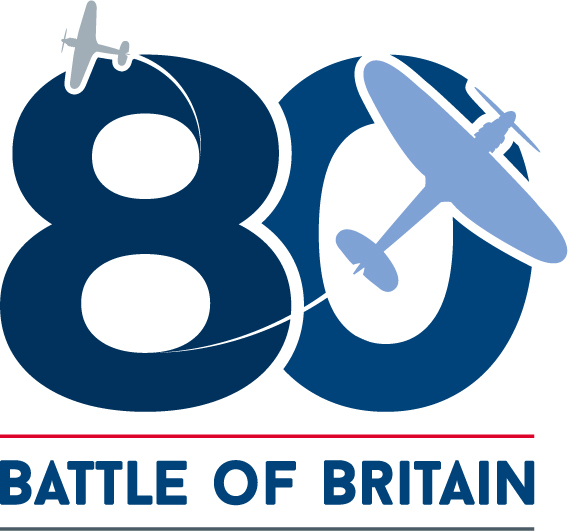 ---
Battle of Britain Service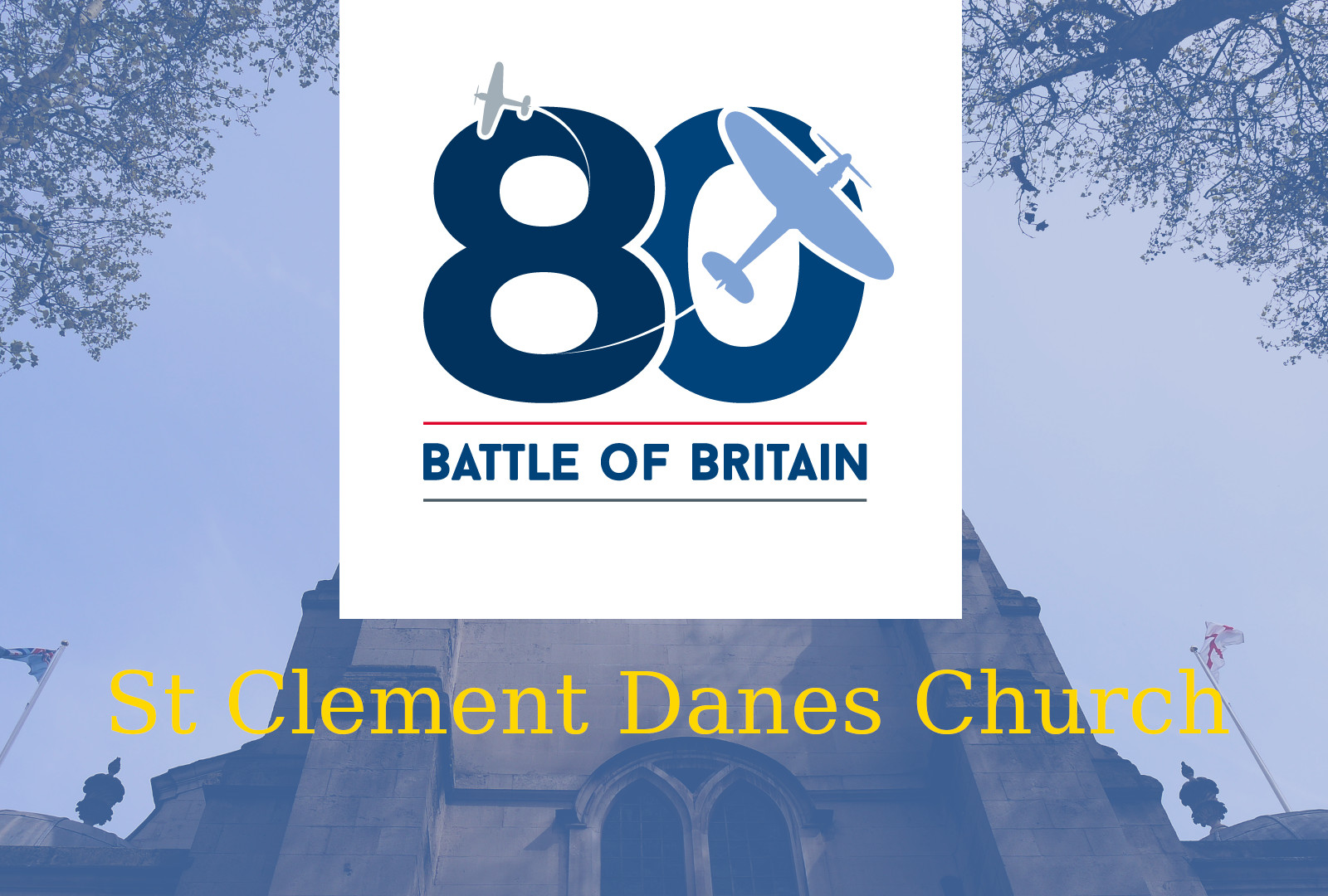 Visit our YouTube Channel for highlights from this Anniversary Service

---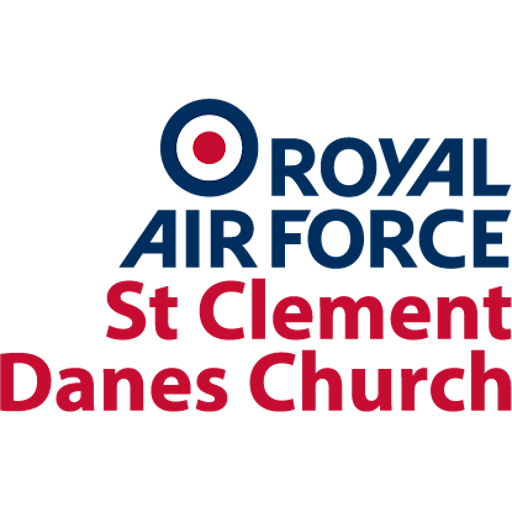 A Service of Commemoration and
Rededication on the 80th Anniversary of the
Battle of Britain
Sunday 20 th September 2020
11.00
The Battle of Britain
Battle of Britain Sunday commemorates the victory won by the Royal Air Force which saved Britain from invasion in 1940. This year marks the 80th Anniversary of the Battle of Britain, the first decisive battle in history fought entirely in the air.
The German objective in the summer of 1940 was to eliminate the Royal Air Force, both in the air and on the ground, in order to obtain air superiority in preparation for a seaborne and airborne invasion. Operating principally from airfields in France and Belgium, the Luftwaffe began their first heavy onslaught early in July 1940, directed against British shipping and the Channel ports. The intent behind this first phase of the battle was not only to sink shipping but also to draw the Royal Air Force into combat and wear down its strength. The second phase, from 8 to 18 August, consisted of intensive day operations against coastal radar stations and fighter airfields. The third phase began after a five-day lull due to poor weather, with attacks on fighter airfields in the London area and increased night attacks on Britain's cities.
The first daylight assault on London was made on 7 September and marked the beginning of the fourth phase, lasting most of that month, during which the capital became the Luftwaffe's primary target. These attacks, although serious in themselves, brought vital relief to the fighter airfields, which until that time had been under considerable pressure. The Battle reached a climax on 15 September, when the Luftwaffe flew more than 1,000 sorties over England during daylight hours. On that occasion the Luftwaffe lost 56 aircraft. It was, in Sir Winston Churchill's words: "One of the decisive battles of the war." Churchill went on to say:
"The gratitude of every home in our Island, in our Empire, and indeed throughout the world...goes out to the British airmen who, undaunted by odds, unwearied in their constant challenge and mortal danger, are turning the tide of world war by their prowess and by their devotion.Never in the field of human conflict was so much owed by so many to so few."
Throughout October, the fifth and final phase of the Battle saw the decline of enemy daylight attacks on London and an increase in the night bombing of Britain's major ports and industrial centres. At the beginning of the struggle the Luftwaffe had approximately 2,700 aircraft to launch against England. Britain had fewer than 60 fighter squadrons – around 700 aircraft – and the groundcrew had to work sometimes 16 hours a day to keep aircraft in the air. Between 24 August and 6 September alone, Fighter Command lost 103 pilots and 128 were seriously
wounded; 366 fighters had been destroyed or badly damaged. Fighter Command lost over 1000 fighter aircraft during the Battle and the Luftwaffe nearly 1900. Through the efforts of fewer than 3000 aircrew from Britain, the Commonwealth, and Allied and even some neutral nations, together with the men and women who supported them, the Nazi war machine suffered its first significant strategic defeat.
In all 544 aircrew from Fighter Command were killed during the Battle, and a further 791 died before the end of the War.
Welcome to St Clement Danes Church for our Battle of
Britain Commemoration Service
Please ensure that you wear a face covering throughout
your time in the church – unless exempt.
There is a hearing loop fitted in this building, please adjust
your hearing aid accordingly.
Please ensure that your mobile phone is in 'flight' mode and
all recording devices are turned off. Thank you.
ORDER OF SERVICE
Conducted by
The Reverend David Osborn QHC BD AKC RAFR
Resident Chaplain
Music during the Service by
The Choir of St Clement Danes
Organist and Director of Music
Simon Over MA FRCO
Assistant Director of Music
Charles Newsome-Hubbard MA FRCO
A Trumpeter of the Central Band of the Royal Air Force
(The Band plays by permission of the Air Force Board of the
Defence Council)
All stand as the clergy procession enters the church and as the choir sings
The Introit       Justorum Animae –Stanford
Remain standing as the choir sings
The Processional Hymn
1.Thy hand, O God, has guided
thy flock, from age to age;
their wondrous tale is written,
full clear, on every page;
thy people owned thy goodness,
and we their deeds record;
and both of this bear witness;
one Church, one Faith, one Lord.
2. Through many a day of darkness,
through many a scene of strife,
the faithful few fought bravely,
to guard the nation's life.
Their gospel of redemption,
sin pardoned, man restored,
was all in this enfolded:
one Church, one Faith, one Lord.
3. And we, shall we be faithless?
shall hearts fail, hands hang down?
shall we evade the conflict,
and cast away our crown?
Not so: in God's deep counsels
some better thing is stored;
we will maintain, unflinching,
one Church, one Faith, one Lord.
4. Thy mercy will not fail us,
nor leave thy work undone;
with thy right hand to help us,
thy victory shall be won;
and then, by all creation,
thy name shall be adored,
and this shall be their anthem:
one Church, one Faith, one Lord.
Words: E H Plumptre
Music: Tune: Thornbury: Basil Harwood
All remain standing
The Royal Air Force Ensign will be paraded from the West Door to the Sanctuary, where it will be placed by the Altar.
Then the choir shall sing:
The National Anthem
God save our gracious Queen,
Long live our noble Queen,
God save the Queen!
Send her victorious,
Happy and glorious,
Long to reign over us,
God save the Queen!
All sit
The Chaplain says
We have gathered together to worship Almighty God, whose purposes are good; whose power sustains the world he has made, who loves us though we constantly fail to love him in return; who gave Jesus Christ for the life of the world; who by his Holy Spirit leads us in his way. As we give thanks for the deliverance granted to us in the Battle of Britain, we remember all those who lived and died in the service of others. We pray for all those who still suffer through war, and we ask that those who gave their lives may not have done so in vain. But first, let us confess our sins to Almighty God.
Most merciful God, we confess that we have sinned in thought, word, and deed; we have not loved you with our whole heart, we have not loved our neighbour as ourselves. In your mercy forgive what we have been, help us to amend what we are, and direct what weshall be; that we may do justly, love mercy, and walk humbly with you, our God; through Jesus Christ our Lord. Amen.
Then the Chaplain says
Almighty God, have mercy upon us, pardon and deliver us from all our sins, confirm and strengthen us in all goodness, and keep us in life eternal; through Jesus Christ our Lord.
All         Amen
All remain seated as the choir sings the psalm
Psalm 121        Chant: Walford Davies
I will lift up mine eyes unto the hills: from whence cometh my help. My help cometh even from the Lord: who hath made heaven and earth. He will not suffer thy foot to bemoved: and he that keepeth thee will not sleep. Behold, he that keepeth Israel: shall neither slumber nor sleep.
The Lord himself is thy keeper: the Lord is thy defence upon thy right hand; So that the sun shall not burn thee by day: neither the moon by night. The Lord shall preserve thee from all evil: yea, it is even he that shall keep thy soul. The Lord shall preserve thy going out, and thy
coming in: from this time forth for evermore.
Glory be to the Father, and to the Son; and to the Holy Ghost. As it was in the beginning, is now, and ever shall be, world without end. Amen.
The First Reading Read by the Ensign Bearer
Have you not known? Have you not heard? The Lord is the everlasting God, the Creator of the ends of the earth. He does not faint or grow weary; his understanding is unsearchable. He gives power to the faint, and strengthens the powerless. Even youths will faint and grow
weary, and the young will fall exhausted; but those who wait for the Lord shall renew their strength, they shall mount up with wings like eagles, they shall run and not be weary, they shall walk and not faint. Listen to me in silence, O coastlands; let the peoples renew their strength; let them approach, then let them speak; let us together draw near for judgement.
Isaiah Chapter 40 verse 28 to Chapter 41 verse 2
All stand as the choir sings
The Office Hymn
1. Who would true Valour see
Let him come hither;
One here will Constant be,
Come Wind, come Weather.
There's no Discouragement,
Shall make him once Relent,
His first avow'd Intent,
To be a Pilgrim.
2. Who so beset him round,
With dismal Stories,
Do but themselves Confound;
His Strength the more is.
No Lion can him fright,
He'll with a Giant Fight,
But he will have the right,
To be a Pilgrim.
3. Since, Lord, Thou dost defend
us with Thy Spirit,
We know we at the end,
shall life inherit.
Then fancies flee away!
I'll fear not what men say,
I'll labour night and day
To be a pilgrim.
Words: John Bunyan
Music: English trad. Adapted by Ralph Vaughan Williams
All sit
Second Reading Read by the Duty Air Officer
As the Father has loved me, so I have loved you; abide in my love. If you keep my commandments, you will abide in my love, just as I have kept my Father's commandments and abide in his love. I have said these things to you so that my joy may be in you, and that your joy may be complete.
'This is my commandment, that you love one another as I have loved you. No one has greater love than this, to lay down one's life for one's friends. You are my friends if you do what I command you. I do not call you servants any longer, because the servant does not know what the master is doing; but I have called you friends, because I have made known to you everything that I have heard from my Father. You did not choose me but I chose you. And I appointed you to go and bear fruit, fruit that will last, so that the Father will give you whatever you ask him in my name. I am giving you these commands so that you may love one another.
John Chapter 15 verses 9 to 17
All stand as the choir sings
Jubilate Deo.  Music Setting: Collegium regale Howells
O be joyful in the Lord, all ye lands, serve the Lord with gladness, and come before his presence with a song. Be ye sure that the Lord he is God: it is he that hath made us and not we ourselves; we are his people, and the sheep of his pasture.
O go your way into his gates with thanksgiving, and into his courts with praise: be thankful unto him, and speak good of his Name.
For the Lord is gracious, his mercy is everlasting, and his truth endureth from generation to generation.
Glory be to the Father, and to the Son; and to the Holy Ghost. As it was in the beginning, is now, and ever shall be, world without end. Amen.
All sit for the prayers
Prayers of Intercession
In thanksgiving for deliverance in the Battle of Britain:
O Lord our God, who art the refuge and strength of all who put their trust in you; we give you our humble and hearty thanks for the deliverance granted to our nation in the Battle of Britain, and for those who by their sacrifice won that deliverance for us. Teach us, we pray you, as we honour their memory and call to mind your great mercy, to renew the dedication of our lives to your service, and always to use our freedom for your glory; through Jesus Christ our Lord.
All     Amen
For all those who have died in the Royal Air Force
Almighty and everlasting God, we give you humble thanks for the memory and good example of all those who have laid down their lives in the service of their country. Especially we thank you for those who made the supreme sacrifice in the Battle of Britain, and all those whose
names are recorded in the Books of Remembrance in this Church. Accept their sacrifice, we beseech you; let it not be in vain that they have died in the cause of peace and freedom; and in your mercy send your peace into the hearts of all people; through Jesus Christ our Lord.
All     Amen
For all those who serve in the Royal Air Force:
Almighty God, who hast promised that those who wait upon you shall renew their strength and rise up with wings, as eagles; we commend to your protection all who serve in the Royal Air Force. Uplift and support them in their high endeavour, that they may be a safeguard unto our most gracious Sovereign Lady Queen Elizabeth, and a sure defence to our homeland. Help them to fulfil their several duties with honour and integrity, and grant that they may prove to be worthy successors of those who by their valour and sacrifice nobly saved their day and generation; through Jesus Christ our Lord.
All     Amen
The Lord's Prayer
All
Our Father, who art in heaven, hallowed be thy name;
thy kingdom come; thy will be done, in earth as it is in
heaven. Give us this day our daily bread.
And forgive us our trespasses,
as we forgive those that trespass against us.
And lead us not into temptation; but deliver us from
evil For thine is the kingdom,
the power and the glory now and for ever. Amen.
The choir sings
The Anthem     Lord, Thou hast been our Refuge Vaughan Williams

All stand
The Commemoration
The Chaplain shall say
Let us praise God for those who with foresight and wisdom laid the foundation of the Royal Air Force.  Let us praise God also for those who planned and prepared, to the end that our country should not be helpless before the challenge of an invader. And let us praise God for the men and women who on the ground and in the air faced the assault of the enemy and won us respite.
"Never in the field of human conflict was so much owed by so many to so few."
Let us bless the Lord.
All    Thanks be to God
The Last Post
The Silence
Reveille
All
Teach us, good Lord, to serve you as you deserve to give and not to count the cost; to fight and not to heed the wounds; to toil and not to seek for rest; to labour and not to ask for any reward, save that of knowing that we do your will; through Jesus Christ our Lord. Amen.
All remain standing as the choir sings
The Hymn
1. O ruler of the earth and sky
Be with our aircrew when they fly:
And keep them in your loving care.
Amid the perils of the air:
O let our cry come unto thee
For those who fly o'er land and sea.
2. Strong son of man, save those who fly,
Swift winged across the uncharted sky;
Each anxious hour and lonely flight,
Serenely challenged day and night.
O'er land and ocean safely bear
All those in peril in the air.
3. O Holy Spirit, God's own power,
Support us all in danger's hour;
Bring calm of heart and be thou near
To those who watch and those who fear.
To thee will rise the grateful prayer,
Of those who serve thee in the air.
4. O Trinity of love and grace,
True guide of all who fly through space;
In peace and war, mid friend or foe,
Be with them where so'er they go.
So shall our praise with heaven blend,
And joyful hearts to thee ascend.
Words: Anon Edit D T Osborn
Music: Tune: Melita: John Bacchus Dykes
All sit
The Address            The Resident Chaplain
All stand as the choir sings
The Final hymn
1. For all the saints who from their labours rest,
Who thee by faith before the world confessed,
Thy name, O Jesu, be for ever blest.
Alleluya!
2. And when the strife is fierce, the warfare long,
Steals on the ear the distant triumph-song,
And hearts are brave again, and arms are strong.
Alleluya!
3. The golden evening brightens in the west;
Soon, soon to faithful warriors cometh rest:
Sweet is the calm of Paradise the blest.
Alleluya!
4. But lo! There breaks a yet more glorious day;
The saints triumphant rise in bright array:
The King of glory passes on his way.
Alleluya!
5. From earth's wide bounds, from ocean's farthest coast,
Through gates of pearl streams in the countless host,
Singing to Father, Son, and Holy Ghost.
Alleluya!
Words: William Walsham How
Music: Ralph Vaughan Williams
All remain standing
The Blessing
God grant to the living, grace; to the departed, rest; to the Church, the Queen, the Commonwealth, and all people, peace and concord; and to us and all his servants, life everlasting; and the blessing of God almighty, the Father, the Son, and the Holy Spirit, be upon you and remain with you always.
All      Amen
The congregation remains standing as the Royal Air Force Ensign is paraded from the church
Recessional Music     Spitfire Prelude     Walton
The clergy and ministers depart.
The Bells of St Clement Danes will ring during the day
Tower Captain    Helen Windsor
Please exit the church as follows
Those on the north side (pulpit side) via the north door.
Those on the south side and gallery via the south door.
Please observe social distancing as you leave the building.
There will be retiring collection boxes and contactless points at
the back of the church for your donation as well as a drop box for
your contact form, Thank you.
CCLI St Clement Danes 1413839
Common Worship: Services and Prayers for the Church of England,
material from which is included in this service is
Copyright © the Archbishops Council, 2006.
Extracts from The Book of Common Prayer, the rights in which are vested in
the Crown, are reproduced by permission of the Crown's patentee, Cambridge
University Press
New Revised Standard Version Bible: Anglicized Edition, copyright 1989,
1995, Division of Christian Education of the National Council of the Churches
of Christ in the United States of America.
Used by permission. All rights reserved.